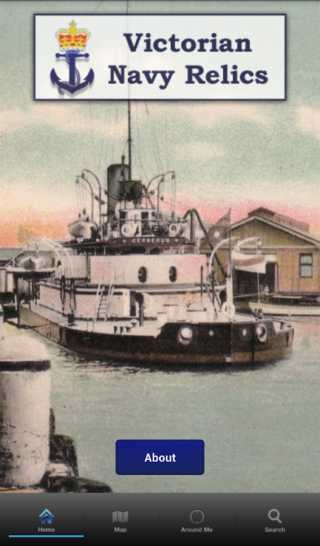 In 2012 Friends of the Cerberus received a grant enabling the creation of the Victorian Navy Relics App for iPhone and Android Smartphones.

The grant was from the Telematics Course Development Fund which is committed to the development and use of new information and communication technologies that support innovative educational initiatives within Victoria. The Trust provides unique funding opportunities to individuals, Educational Institutes, Government, Business and Not-for-Profit organisations that are exploring the possibilities of using information and communications technology for educational purposes.

The Victorian Navy Relics App shows the location & details of known relics of Victoria's Colonial Navy. Relics from the world's oldest surviving monitor warship, the largest Man-o-War built during the Napoleonic Wars, Victoria's gunboats, torpedo boats & auxiliary vessels are covered in this App. In all, 25 vessels served between 1856 & 1901 to defend Victoria in the event of war with Russia, France or the USA. Items covered in the App, dating from 1786 to 1892, include bells, anchors, monuments, a figurehead, 90 cannon & hundreds of smaller relics as well as 25 vessels.

Hundreds of images illustrate the various relics & help explain how they were used as well as describing their life since the end of their service. Discover which cannon have been fired in retirement, which relics travelled to New Zealand & China, which ship flew a flag featuring a kangaroo, which relic has been dug up & buried 4 times, which relics date from the reign of George III & which relic was saluted by 100 French cavalry.

At under 25 mb, the App is small enough to leave on a Smartphone until needed. At the touch of an icon the closest 12 relics are identified with a map showing how to find them. Once downloaded an internet connection is not required unless more than the basic map is needed. A detailed map can be accessed in the field via an internet connection or preloaded via WiFi before venturing forth. Details, images, the GPS location & how to find the surviving relics & vessels can all be accessed offline.
Download the Victorian Navy Relics App.

Click the above images to download the App or simply
search for Victorian Navy Relics in your App Store.