HOME
NEWS
SEARCH
SITEMAP
TIMELINE
IMAGES
HELP
VIDEOS
TOUR
STORE
CONTACT
HMCS VICTORIA.
This vessel has not the strength of the Cerberus, nor yet the dimensions of the Nelson, and at all points differs widely from either. What she lacks in bulk, however, she possesses in beauty, and a finer model of a vessel of her class has never been seen in these waters, her lines being the perfection of symmetry. The Victoria was built and equipped as a sloop of war, and was launched in 1855 from the yard of Messrs. Young, Son, and Macnay, on the Thames. She was draughted by Oliver Lang, of the Naval Dockyard. and was built for the Victorian Government, under the superintendence of Captain W. H. Norman, who held command of her until his death In 1867. The Victoria has an armament of seven guns, six broadside, and one long 32-pounder forward. This latter was exchanged for an Armstrong gun of larger calibre during the last Maori war.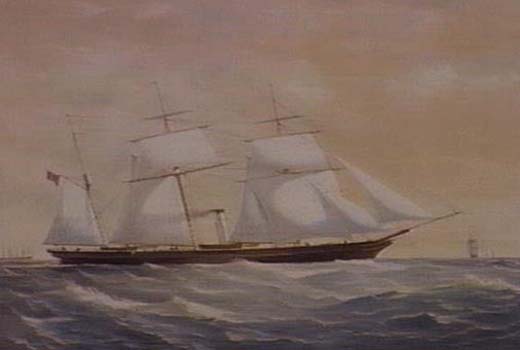 The Sloop Victoria

She is 176ft, in length, and is propelled by a screw driven by horizontal trunk engines of 120-horse power. The engines were made by Rennie, of London, but during the years she has been here they have undergone considerable repair, and in some portions renewal. The Victoria, during the first year or two of her career here, was employed in the Water Police department. One of her earliest cruises was to Port Curtis, to bring back repentant diggers from that overdone and disastrous rush. In 1860 she did good service by taking over troops and stores from Hobart Town to New Zealand, where she remained for some time, and was most useful as a despatch boat, and also in conveying men and military stores to the various ports. After playing her part in New Zealand, she was despatched in 1861 to the Gulf of Carpentaria, with instructions to meet, the Burke and Wills exploration party, and a few years afterwards she was engaged in the cause of acclimatisation, having been selected to convey salmon ova over to Hobart Town. No small portion of her time has also been spent in looking after wrecked vessels, and. in 1859 she brought on the passengers and crew of the steamer Thistle, which was lost off Port Albert. She was also at the wreck of the Netherby at King's Island, and. in 1865 she made a trip to Auckland Island, where the Invercauld and the General Grant were lost. Before leaving the island she left stores and live stock for the use of any shipwrecked people who might land there. Of late years she has been engaged exclusively in marine survey work, under Captain H. J. Stanley, R.N., and recently she made a trip to Sydney to bring His Excellency Sir George F. Bowen here. The Victoria was an idea of Sir Charles Hotham's, but he died before she came out here. The officer at present in charge of the Victoria is Lieutenant G. P. Tandy.

The Australasian Sketcher, 1 July 1874




ARMAMENT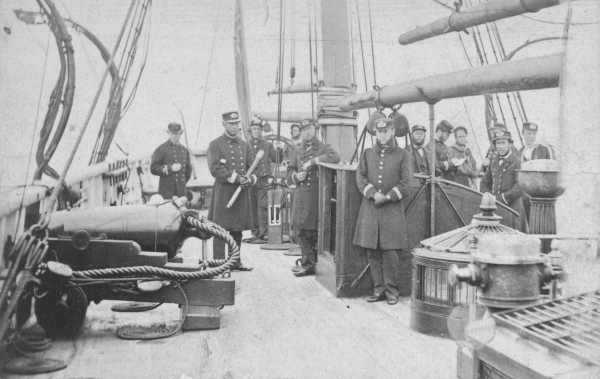 One of Victoria's 25 cwt 32 pounder Smooth Bore Guns on her Main Deck c 1861-63
Photo courtesy of the State Library of Victoria


1855

Intended armament:-1
One 56 cwt 32 pdr pivot gun
Two medium 25 cwt 32 pdr broadside guns.

1856

On arrival:-10
One pivot gun 9 feet 6 inches long*
Two 25 cwt, 32 pdr guns, 6 feet long.

1856/7

Pierced & Fitted for:-11
Two long 32 pdr 56 cwt gun 9 feet 6 inches in length
Six medium 32 prs 25 cwt 6 feet 0 inches in length.

1856/7

Has on Board:-11
One long 32 pdr 56 cwt gun 9 feet 6 inches in length
Two medium 32 prs 25 cwt 6 feet 0 inches in length.

1862

Carrying:-2
One long 32 pdr
Six medium 32 pdrs.
Two 12 pdr howitzers

1864

Out of Commission 16
Paid off and put out of commission on 25 July 1864.

1865

Guns Removed:- Sir Harry Smith 5 x 32 pdrs from HMCS Victoria. (4 x 25 cwt guns, one 50 cwt 32 pdr gun).15

1866

Carrying:-14 Four broadside guns.
(Four broadside guns returned from Harry Smith to Victoria. Pivot gun now at one of the shore batteries.)

1866

Carrying:-3
One 40 pdr Armstrong pivot gun
Four 32 pdrs

1867

Carrying:-4
One 40 pdr Armstrong pivot gun
Six 32 pdrs
One 12 pdr brass field piece.

1869

HMCS Victoria is now laid up en permanence. Her men have been paid off, and there are now retained only her chief officer and a boat's crew. The Argus, 1 February 1869

1870

"...and the eight 32-pounders and one 80-pounder pivot gun, with which HMCS Victoria can be speedily furnished. 12

1870

"The drill-room of the 1st Geelong Corps contains two of the 32-pounders that once formed the armament of HMCS Victoria.13

1878, February

"The Viotoria has been handed over to the Chief Naval Officer, and she has been fitted with a sixty-four pounder which has been placed on the forecastle bow, and four twelve-pounder howitzers. She will be employed in laying torpedoes and protecting them, and will also be utilised as a despatch vesael." 18

1878, September

Returned to Naval control & rearmed during 1877/8 War Scare:-
"She (Victoria) has been recently well strengthened so as to enable her to carry a 64-pounder rifled gun forward, and she has also four 12-pounder howitzers on her quarter-deck."17

1887, 18 July

Sold at auction to Captain Dean for £270.

1895, August

Broken up by the Melbourne Steamship Company.

* - Peter Webster informs us that the nominal length of a 56 cwt 32-pounder gun is nine feet six inches, of a 45 cwt 32-pounder nine feet zero inches and of a 25 cwt 32-pounder six feet zero inches.

It appears that between 1856 and 1868 Victoria mounted:-
One pivot gun at the bow (at first a 56 cwt 32 pdr & later a 40 pdr RBL gun)
Four or six 25 cwt 32 pounder broadside guns
One or two 12 pounder bronze howitzers
Two Victorian Navy 12 pounder
Smooth Bore Bronze Howitzers.8
A 25 cwt 32 pounder Smooth Bore Gun
the same as used on board HMCS Victoria.6
One of the Colony's six Armstrong 40 pounder Rifled
Breech Loading Guns here seen mounted as a Field Gun.7
Ships Index
---
1 The Argus, 27 September 1855
2 1861/2 Victoria Report to Select Committee, 4 April 1862. (courtesy of John Underwood)
3 The Argus, 25 May 1866
4 The Argus, 20 November 1867
6 The gun shown is on display in the Clunes Museum.
7 The gun shown is on display at Fort Queenscliff.
8 Photographed courtesy of Museum Victoria.
9 Australasian Sketcher, 1 July 1874
10 The Hobart Courier, 1 August 1856
11 Return to the Legislative Assembly, (C No. 21, 1856-7) (Courtesy of Ian MacFarlane)
12 The Argus, 3 September 1870
13 The Argus, 17 September 1870
14 The Argus, 12 March 1866
15 The Argus, 20 April 1865
16 The Argus, 2 August 1864
17 The Australasian Sketcher, 8 June 1878
18 The Age, 20 February 1878