BLACK Rock's HMVS Cerberus has been named Victoria's most at-risk heritage landmark.

The Cerberus was placed on the National Trust's inaugural Our Heritage at Risk national top 10 list this month.

It was the only Victorian entry on the list and was chosen from more than 60 sites across Australia that were identified this year as being under threat.

National Trust Victoria chief executive Martin Purslow said the Cerberus was the last surviving vessel of its type in the world. "We are asking the state and federal governments to jointly fund the stabilisation of this rare heritage asset before it is too late," Mr Purslow said.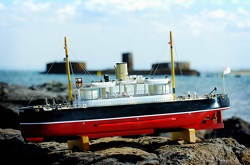 HMVS Cerberus is on a list of the nation's top 10 most at-risk heritage sites. A replica model is pictured with the Cerberus wreck in the background at Half Moon Bay, Black Rock.
JASON SAMMON N20SB305
As reported in the Bayside Leader last month, a $3.25 million application to the National Heritage Investment Initiative to help save the Cerberus was deemed ineligible because of a $500,000 cap. The Friends of the Cerberus had hoped to raise $7 million to stabilise the ship, with the State Government also chipping in.

Friends of the Cerberus secretary Peter Tully said the ship's inclusion on the list highlighted the urgency. "If we don't get finance within 12 months, the Cerberus is lost," he said. "She is steadily declining and getting lower in the water."

Cerberus campaigner John Trewarne said he was disappointed the Federal Government had not come to the rescue of the Cerberus. "With billions of dollars in election promises, it is a tragedy there is such a lack of interest in preserving a unique part of Victorian and Australian history," Mr Trewarne said.

Goldstein Liberal MP Andrew Robb said there was "some merit" in the federal and state governments jointly assessing the likely costs and merits of any rescue project. Goldstein Labor candidate Julia Mason said she was making "strong'' representations to her party about saving the Cerberus.

Licardo Prince, spokesman for Planning Minister Justin Madden, said: "While the Howard Government's lack of support for this project is disappointing, we will continue to pursue ways of undertaking the complete stabilisation of the Cerberus."