HOME
NEWS
SEARCH
SITEMAP
TIMELINE
IMAGES
HELP
VIDEOS
TOUR
STORE
CONTACT



4 July 2017

Jon Andrews


Cerberus future in doubt over council concrete fill-in plan.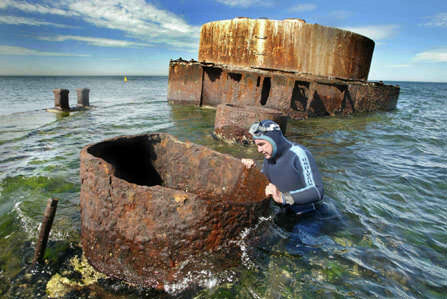 Salvage expert Kevin Patience at the sunken wreck of the Cerberus. Picture: Rob Leeson



UPDATE: BAYSIDE councillors have agreed to float the idea of using concrete as ballast to save the HMVS Cerberus.

Councillors, at a meeting on Tuesday night, voted to spend $500,000 on using "concrete infill or other approved method" try and save the historic breakwater in Half Moon Bay.

The Friends of the Cerberus group vehemently opposed the idea.

The ship, which has been a breakwater for nearly a century, needs stabilising to prevent it from collapse.

The Federal Government chipped in the $500,000 to kickstart safety works in 2009, but that money has sat in a trust since because authorities and heritage groups couldn't agree on what to do.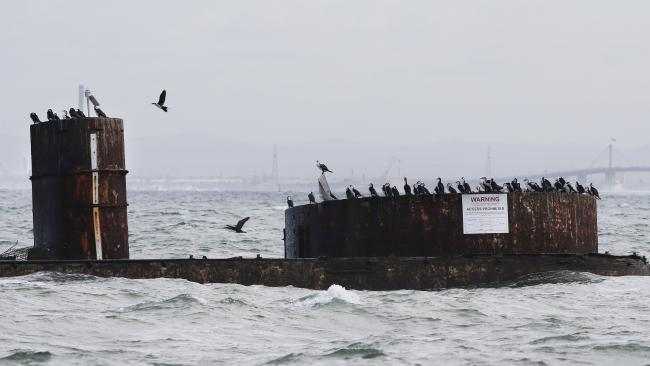 The council wants to pump the wreck full of concrete — but the Friends of the Cerberus group disagree.



Friends of the Cerberus president John Rogers said the council was using the concrete concept as a way to limit any possible liability action from people being hurt inside the hull.

"Concrete infill is also likely to hasten failure; we propose a consultative process to find other ways to save this world-class heritage site," Mr Rogers said.

He read out a letter from another group member, who said it was akin to filling the "pyramids full of concrete".

Group co-founder Gary Grimmer said it would be "calamitous" because the extra weight would wreck the remains.

He also said as concrete shrank it would leave gaps, allowing rust to take hold and cause further corrosion to the hull.

The group also disputed the cost, saying their estimates suggested the project would likely be well over $1.5 million.

But councillor Laurence Evans said the issue has been going on for a long time and must be resolved.

"There is no really right solution here, we are never going to get a perfect answer," Cr Evans said.

"There has been no other recommendation I have seen, this is the best we can possibly do, I want to get on with it."

Bayside Mayor Alex del Porto said the council must move forward with saving the iconic structure before the grant disappeared.

Scuttled in 1926, the Cerberus, launched in 1868, was the first ship in the world to incorporate the combination of a central superstructure with fore and aft gun turrets.

It is preserved on the National Heritage Register, and has a 25m exclusion zone around it.

But despite big fines imposed if anyone is caught there, swimmers and divers often trespass, with one suspected abalone diver found dead inside its hull a few years ago.

The council believe that to resolve the safety issue they should apply for a Heritage Victoria permit seeking to "preserve the ship by concrete infill or other approved method and to return the guns to the deck".

They also need to apply to the Federal Government to release the funds, as they have sat dormant for so long the terms of the grant have expired.





Index