a "National Heritage Place"
www.cerberus.com.au
Cerberus Newsletter No. 209
8 September 2020
---
Cerberus to Australia, 150 Years Ago.


To commemorate the voyage of Cerberus to Australia, we will be presenting highlights of the voyage, starting from today until the 9th of April 2021, which marks 150 years since the arrival of Cerberus at Melbourne.
HMS Captain Disaster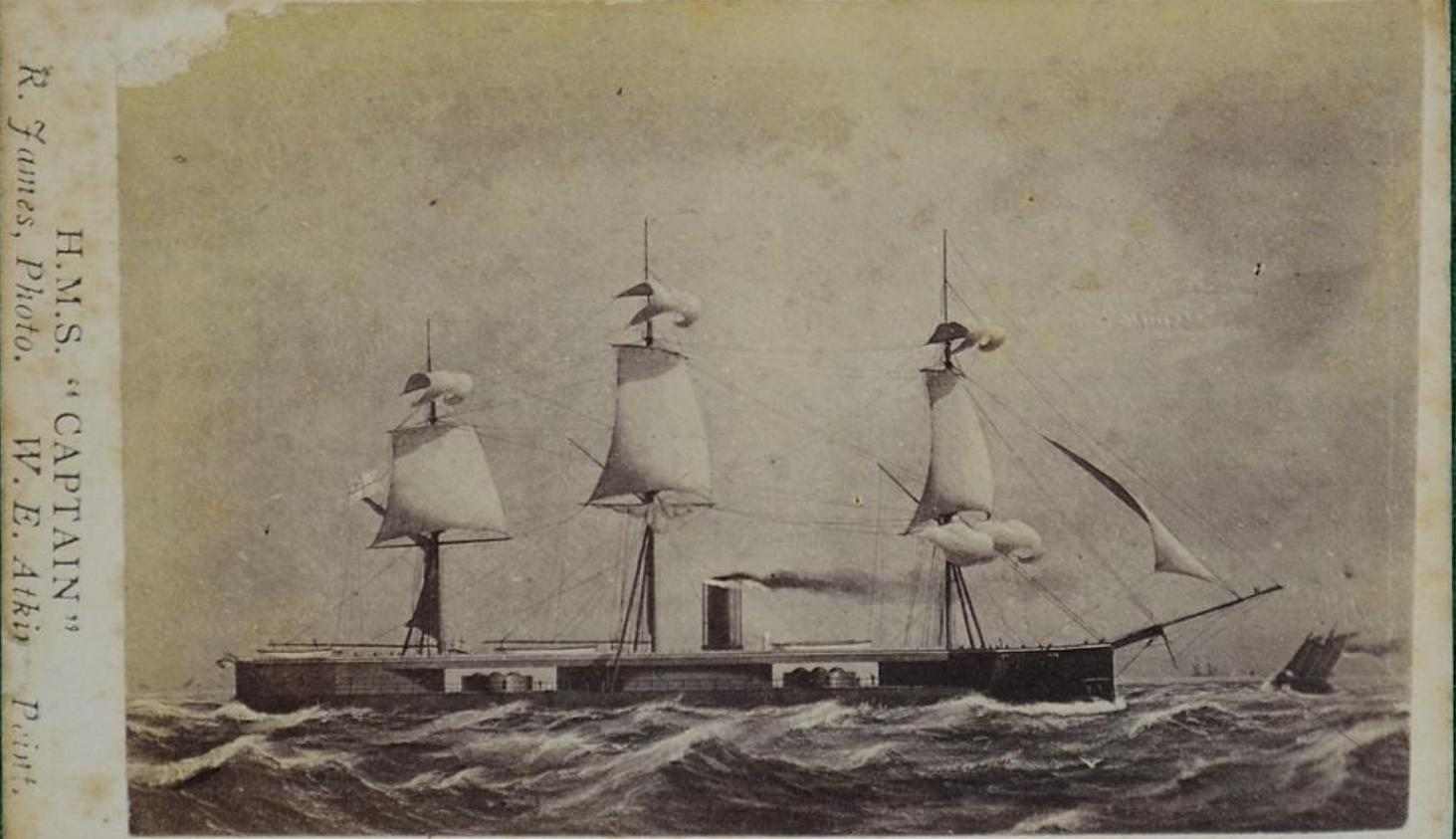 HMS Captain in 1870
Click image to enlarge.
The story of HMS Captain, culminating on the 7th of September 1870, is relevant in the lead up to the voyage of Cerberus to Australia. It was this disaster, the month prior to the departure of Cerberus, that led to the difficulty in hiring and keeping a crew for Cerberus.

During the Crimean War, Captain Cowper Phipps Coles had constructed a gun raft with guns protected by a cupola (metal cover) in 1855. After the war the Coles gun turret was patented and developed and fitted to a handful of vessels (including Cerberus). After much public lobbying and against the wishes of the Admiralty, Coles was able to build an ocean going ship fitted with two gun turrets. As engines to drive ocean going ships were not yet advanced enough, Coles' ship had to be fitted with masts. To avoid the guns in the rotating turrets from destroying the masts and rigging when they fired, the masts and rigging were mounted on the deck above the deck on which the turrets were mounted. Various errors during construction meant that the ship sat lower in the water than was intended and was heavier than planned.

During gunnery trials on the 7th of September 1870 against HMS Monarch 1 (a turret ship) and HMS Hercules, a gale caused HMS Captain to capsize when she rolled 21 degrees. As a comparison, HMS Monarch could roll 40 degrees before capsizing. The loss of life on board HMS Captain was huge with 480 lives lost. These included the designer, Captain Coles and the sons of the Under Secretary for Way and the First Lord of the Admiralty, Hugh Childers. Only 27 men survived.

The heavy coverage in the press during September and October, prior to the departure of Cerberus, understandably caused those considering crewing Cerberus to have second thoughts.




THE OFFICIAL INQUIRY INTO THE LOSS OF H.M.S. CAPTAIN. 8 October 1870
Mount Alexander Mail (Vic) 24 December 1870

"The Court having heard the evidence of Mr James May relating thereto (the loss of the ship), and that of the remaining survivors, and such other evidence as they deemed necessary, and having deliberately weighed and considered the whole of the evidence before them, do find that Her Majesty's ship Captain, was capsized on the morning of the 7th of September by the pressure of sail, assisted by the heave of the sea, and that the amount of sail carried at the time of her loss (regard being had to the force of the wind and the state of the sea) was insufficient to have endangered a ship endowed with a proper amount of stability.

The Court further find that no blame is attributable to Mr James May, gunner of the second class, and the survivors of the Captain, for her loss, and the Court do fully, acquit them of all blame, and the said Mr James May and the other survivors are fully acquitted accordingly.

The Court before separating find it their duty to record the conviction they entertain that the Captain was built in deference to public opinion as expressed in Parliament and through other channels, and in opposition to the views and opinions of the Controller of the Navy and his department, and that the evidence all tends to show that the Controller of the Navy and his department generally disapproved of her construction.

It further appearing in evidence that before the Captain was received from the contractors, a grave departure from her original design had been committed, whereby her draught of water was increased by about two feet [.6 metres], and her freeboard was diminished to corresponding extent, and that her stability proved to be dangerously small, combined with an area of sail, under these circumstances, excessive; the Court deeply regret that, if these facts were duly known and appreciated, they were not communicated to the officer in command of the ship; or that, if otherwise, the ship was allowed to be employed in the ordinary service of the fleet before these facts had been sufficiently ascertained by calculations and experiments."





1 Designed by Sir Edward Reed, who also designed Cerberus.

Wikipedia article on HMS Captain






---

---

The Victorian Navy - of the Colony of Victoria (Chapter 4)

Over the last decade I have been writing a book about the Victorian Navy. Although not yet complete, Friends of the Cerberus has decided to make the book available in installments to our loyal supporters. Each newsletter will provide access to a new chapter in sequence, except for the last chapter.

Chapter 19, which details the campaign to Save the Cerberus, will be distributed when completed. This chapter will describe the 20 year campaign and give credit to those instrumental in advancing our campaign, as well as identifying those responsible for the disastrous decision to fill Cerberus with concrete. Cerberus Heroes and Heritage Vandals. The chapters are listed below. Chapters 16, 17, 18 and 19 are in the process of being written.

As always, comments are most welcome. Chapter 4, Naval Ensigns can now be downloaded.





The Victorian Navy - of the Colony of Victoria

Chapter 1 - Birth of a Navy

Chapter 2 - Volunteer Naval Brigade

Chapter 3 - Decline, Legal Basis & Resurrection

Chapter 4 - Naval Ensigns

Chapter 5 - The Big Ships

Chapter 6 - Brigade becomes a Militia

Chapter 7 - The Permanent Force

Chapter 8 - Shot & Shell Practise

Chapter 9 - Attacking the Forts

Chapter 10 - War Scares

Chapter 11 - Expansion of the Navy

Chapter 12 - Defending Victoria

Chapter 13 - Fleet Manúuvres

Chapter 14 - The High Point

Chapter 15 - Downsizing

Chapter 16 - Swansong

Chapter 17 - Strengths and Weaknesses

Chapter 18 - Vessels after Federation

Chapter 19 - Saving the Cerberus Campaign

---

---

John Rogers
Fleet Engineer (Victorian Navy)
website, research & Friends of the Cerberus President.


---