William Henry Norman
Commander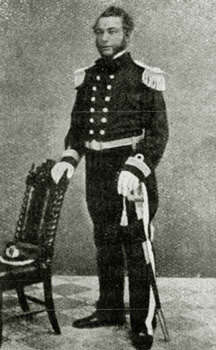 Captain Norman
BORN : March, 1812.
DIED : 12th. December, 1869.

---
As Commander Lockyer was described as the future Captain of HMCS Victoria at her launch on 30 June 1855 and that Commander Norman is only mentioned after August 1855, it is likely that Captain Norman was not greatly involved in the construction of HMCS Victoria. Commander Norman replaced Commander Lockyer as Captain when Lockyer declined the offer to bring HMCS Victoria to Australia. Victoria departed Greenhithe for Australia on the 1st of December 1855 but remained under Commander Lockyer's command until they reached Plymouth when Lockyer's command ended.
---
Captain Norman was accompanied to Victoria on board HMCS Victoria by his wife, daughter and two sons, Henry and Charles E. Norman.
The Argus, 2 June 1906
---
Births
On the 6th inst., at her residence, Stockade Cottage, Williamstown, the Lady of Commander W. H. Norman (of H. M. colonial steam-sloop Victoria), of a son.
The Argus, 7 Oct 1856
---
By Shirley M. Joy.
A study of the history of H.M.V.S Cerberus would not be complete without an account of the life story of Commander William Henry Norman. His name came into prominence in Victorian Naval history when he was appointed to the command of the passenger ship Queen of the South which made voyages from England to the Australian Colonies.

When the Queen of the South left Southampton on the 4th. April, 1854, one of her most prominent passengers was Sir Charles Hotham, K.C.B., R.N., who was on his way to the State of Victoria, Australia to assume the governorship. Sir Charles, one of the ablest officers in Her Majesty's navy, was greatly impressed by the character and ability of Captain Norman.1

At that time the Crimean War, (Russian War), 1853 – 1856 was raging, and as a consequence Sir Charles Hotham decided to have built for the Colony of Victoria, an armed steam sloop, which was later named the Her Majesty's Colonial Steam Sloop Victoria, (HMCSS), and sometimes referred to as Her Majesty's Victorian Sloop Victoria, (HMVS).

News had reached Australia that the Russians were believed to have in the Pacific an 80-gun battleship and four 60-gun frigates at Valparaiso, on the central west coast of Chile. Governor Hotham drew to the attention of the Victorian Government the havoc which these ships could cause to the Australian colonies in the event of an attack on her shipping.

With encouragement from Sir Charles Hotham, the Victorian Government commissioned Captain Norman to have such a vessel built, and when the Queen of the South returned to England, her commander, Captain Norman, left her and committed himself totally into the service of the Victorian Government.

Under Captain Norman's command the Victoria was launched on the 30th. June, 1855. Her hull was of two thicknesses of diagonal mahogany planking, and the bow carried a handsome and appropriate figurehead. She was built by Young, Son and Magnay of Limehouse, with engines of 150 nominal horsepower supplied by George Rennie and Company of Blackfriars. Under the combined efforts of steam and sail she was capable of 14.5 knots.2

The Victoria sailed from Plymouth, England on the 8th. March, 1856 and arrived in Melbourne on 31st. May, 1856, by which time the Crimean War was over, the Treaty of Paris having been signed in February, 1856.

Shortly after bringing his vessel to Hobson's Bay, the Victoria began, under Captain Norman's brilliant command, a series of public services which rendered her name famous throughout Australasia.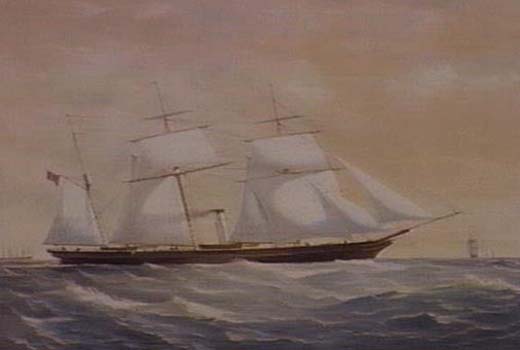 Australia's first warship HMVS Victoria 1856-68
(A comprehensive account of the outstanding career of Captain William Henry Norman is recorded in the two Obituaries which were published at the time of his death. They appear as Appendix 1 and Appendix 2 at the end of this story).3
In May, 1866, Mr. G. F. Verdon, the Treasurer of the State of Victoria, was commissioned by the Victorian Government of the day to proceed to England for the purpose of bringing the subject of the defence of the colony more closely under the notice of the Imperial Government, and his tact and gifts of persuasiveness, together with the strength of his case were so successful that the results of his negotiations were these:-

(1) The presentation to the colony of Victoria a line-of-battle ship, the Nelson, which was to be used as a training vessel in time of peace; the colony undertaking to defray the cost of the outfit and the expenses incidental to the voyage hither, and likewise to provide for the equipment and maintenance of the vessel after her arrival in these waters.

(2) The contribution by the Imperial Government of the sum of £100,000 towards the construction of an ironclad as an addition to the naval defences of the colony. (The Nelson, it may be added, arrived in Hobson's Bay, Victoria in January, 1868).4

The ironclad was to be specifically designed and constructed for service in Port Phillip Bay, with the special ability to sail in shallow waters. She was to be built as an iron-clad heavily armed twin turret ship, whose duty it was to protect one of the British Empire's thriving colonies – the port of Melbourne and the State of Victoria. 5

Captain William Henry Norman, Commander of the Victorian Navy, was appointed by the Victorian Government, to sail to England to supervise the construction of the ironclad, and on completion sail the vessel to Victoria, Australia.

Although not in good health Captain Norman sailed for England early in 1869 for that purpose, eager to contribute to the construction programme his accumulated wealth of knowledge acquired during his decades at sea in the performance of his duties as a Master Mariner and Commander of the Victorian Navy. After his arrival in England he made many valuable suggestions that were incorporated into the design of the ship, for which he received the warm commendation of the Admiralty.

As his health continued to fail his role in the construction of the Cerberus was curtailed, so he retired to the countryside into the care of his English relatives. He was diagnosed with hepatic and cardiac disease (liver and heart disease), which his body, worn from forty-five years at sea, could not overcome. His last four months were spent at Ramsgate, a seaside town, in the company of his younger sister Jane, her family, and his long-time friend the imposing and highly regarded Sir George Verdon, Agent-General for Victoria.6

William Henry Norman died on the 12th. December, 1869 at 2 Royal Crescent, Ramsgate, England, aged fifty seven years, in the county of his birth and thousands of miles from his immediate family. He was survived by his wife and nine children of whom eight ranged between seventeen years and three years of age.7

Let us pause now to contemplate the last year of the life of Captain William Henry Norman who sailed to England, full of zeal - anxious to play an active role in the construction of Victoria's ironclad Cerberus and sail her to Victoria, but he was thwarted by ill health and did not live to fulfil his ambition. He died quietly at Ramsgate without the fanfare and adulation which he so richly deserved after a life-time of service to the people of England and Victoria and the Victorian Navy.

After the death of Captain Norman, the Victorian Government appointed a replacement officer, Lieutenant William Henry Panter R.N. to carry out the duties formerly assigned to Captain Norman. Lieutenant Panter sailed from Melbourne on the 24th. April, 1870, bound for England.

He arrived in England on the 13th. June and immediately reported to the Agent-General for the Victorian Government and the Admiralty.8 He informed them that he had been sent by the Victorian Government to take charge of the ironclad, which had, by this time, been named Cerberus after the three headed dog in Greek mythology.

"Cerberus guarded the entrance to the mysterious lower world. Three heads, three serpent tails and a body bristling with vipers made it a fearsome creature. It was chained in a way that the souls of the dead could enter, but could not leave. Hercules was given the task of bringing the monster back from the lower world, but when he did no one could decide what to do with it".9

Captain Panter endured many trials while dealing with the bureaucracy of the Imperial Government before taking command of the Cerberus. He finally sailed from Plymouth, England on the 7th. November, 1870, arriving in Hobson's Bay, in Port Phillip, on the 9th. April, 1871.10

To him fell the hero's welcome and the accolades from the people of Victoria.
---
COMMANDER WILLIAM HENRY NORMAN'S FAMILY
IN WILLIAMSTOWN, VICTORIA, AUSTRALIA
Little is known of Captain William Henry Norman's first wife, but it is known that she bore him a son. This son was referred to as "Thomas William Norman" when Captain Norman appointed him Executor of his Will which was made in March, 1861.11 On the assumption that the son would have reached maturity before being nominated to act as an Executor and that the Will was proved in the State of Victoria, it seemed logical that the son's name would appear on the Registers for the State of Victoria. Therefore a search of the Birth, Death and Marriage Registers for that State was embarked upon.

One particular birth registration appeared to be significant, namely, that a William Thomas Norman and his wife Mary Ann Symons registered a son named Charles Ernest Norman in 1868. Charles Ernest Norman was also the name of Captain William Henry Norman's son who was born in 1854. A further search revealed that William Thomas Norman married Mary Ann Symons in 1867. A copy of the Marriage Certificate was duly purchased and it revealed the following -
On the 23rd. March, 1867 at Trinity Church Williamstown, Victoria, William
Thomas Norman, batchelor, born London, banker, aged 28 years, present place of
residence Williamstown, usual place of residence Bright - mother and father's names -
William Henry Norman, Commander Victorian Navy and Sarah Stretch,

married

Mary Ann Symons, Spinster, born Totness, Devonshire, aged 26 years, present
place of residence Williamstown, usual place of residence Williamstown – mother
and father's names – Thomas Symons and Mary Ann Holberton.

Further information relative to William Henry Norman's life is recorded in "A Biographical Register 1788 – 1939" which reads as follows :-
NORMAN, William Henry (1812 –1869). Shipmaster, Vic.
b. Kent, Eng., Mar. 1812; d. Ramsgate, Kent, 12 Dec. 1869; m. (1) unkn;
(2) 26 May, 1849 Syd. Mary Jane Holberton.
Joined merchant marine serv. as boy: emp. Gen. Screw SS Co. 1851:
Master mariner Aust. Run: carried lieut-gov. Sir Charles Hotham (ADB4) to
Vic. 1854: cmndr sloop-of-war Victoria in survey, salvage, search and
rescue work: to Eng. To take command Cerberus Jan. 1869: Norman R.
and Normanton, Qld, named after him: fr. of Charles Ernest N. (q.v.).

Vic. Hist Mag. (Melb) Sept. 1923; Argus 22 Jan. 1870; BR file; dr.12
At the time "A Biographical Register 1788 – 1939" was published in 1987, the name of Captain William Henry Norman's first wife was not known, however, the information contained in the above-mentioned Marriage Certificate confirms that her name was "Sarah Stretch" and that their son, named William Thomas Norman was born in London, c. 1839.

The birth records for the State of Victoria reveal that William Thomas Norman and his wife, Mary Anne Symons, had several children who were born in Victoria.

William Henry Norman married for the second time at St. Phillips Church, Sydney, Australia on the 26th. May 1849. His bride was Mary Jane Holberton, born in Totness, Devonshire, England, the daughter of William Holberton, Grazier and his wife Elizabeth.

After their marriage William Henry and Mary Jane Norman returned to England where they had three children – Mary born in 1852, Henry born on 31 December 185215 and Charles Ernest born in 1854.13

On their return to Australia in 1855 they took up residence in Williamstown, Victoria where their family increased by another six children.
George Harold Norman – born 1856.
Eva Louise Norman – born 1860, died 1863.
Edgar Norman – born 1863.
Anne Eliza Norman – born 1858
Victoria Elizabeth Norman – born 1862.
Catherine Florence Norman – born 1866.

William Norman invested in real estate in and around Williamstown, and provided residences for his family in the most attractive part of the town. In 1858, William and his family moved into a spacious seven roomed dwelling in Nelson Place, which overlooked picturesque Hobson's Bay. He also built for his family a grand two-storey house "Abberton House" at 24 The Strand, with views across Hobson's Bay towards the city of Melbourne. This residence he later sold to his friend Sir George Verdon.14 In the year 2003, there is a plaque with the following inscription outside "Abberton House", now named "Mandalay" –
Abberton House 1857

Renamed Mandalay 1902, Architect William Bull.
Home of Sir George Verdon, Member first
Williamstown Council 1856, M.L.A. 1859.
Treasurer of Victoria in 1860s.
Victoria's first Agent General in London in 1866.
As Minister of Defence, fostered the
Victorian Navy.

City of Williamstown
Williamstown Historical Society.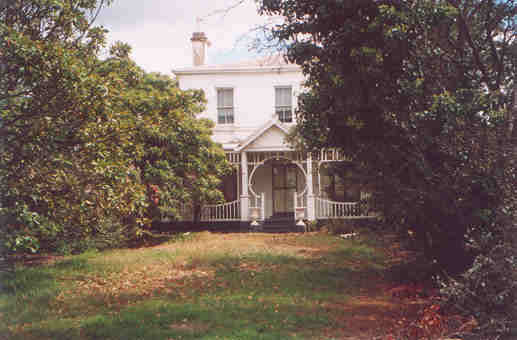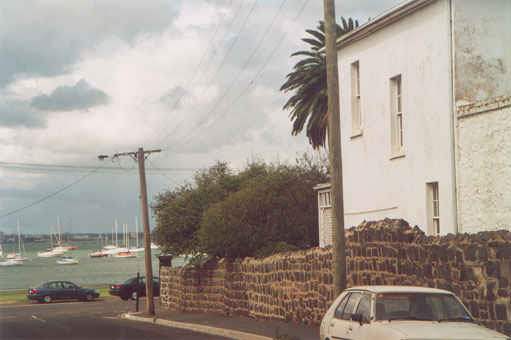 Abberton House 1857 - renamed Mandalay 1902
24 The Strand Williamstown, Victoria
Formerly the residence of Commander William Henry Norman
Mary Jane Norman, the widow of Captain William Henry Norman died at The Point, Borough of Williamstown on the 13th. April, 1873, aged 48 years, from Disease of the Spine with Psoas (hip muscles) Abscess, from which she had suffered for three years. Her youngest child was only seven years of age. The Death Certificate indicates that Mary Jane Norman was born in 1825, therefore she was thirteen years younger than her husband.

Mary Jane Norman was buried in the Williamstown Cemetery - Church of England, Compartment F, Row 10, Grave 1. The Victorian Government erected a memorial headstone on her grave in honour of Commander William Henry Norman, and three members of his family who lie buried there. The Williamstown Cemetery records reveal that five members of William Henry Norman's family were buried there. His wife, Mary Jane, daughters Eva Louise, Mary and Annie Eliza, also his son Edgar.
The following is a record of the inscription on the headstone on the grave.


IN MEMORY OF

COMMANDER
WILLIAM HENRY NORMAN

of the Victorian Navy
who died at Ramsgate, England
12th. December, 1869
Aged 57 years


ALSO OF
MARY JANE

Relict of the above
who died at Williamstown
on Easter Sunday 13th. April, 1873 Aged 48 years


ALSO OF
EVA LOUISE

Daughter of the above
who died at Williamstown
30th. August, 1863
Aged 3 years

ALSO OF EDGAR

Fourth son of the above
who died at St. Kilda
16th. May, 1892.
Aged 28 years.

The Headstone on the grave was errected in memory of Commander William Henry Norman of the Victorian Navy, who died in Ramsgate, England on 12th December, 1869, and members of his family. Mary Jane Norman, the wife of Commander William Henry Norman, and their daughters Eva Loiuse, Mary and Annie Eliza & son Edgar, lie burried in the grave. Church of England, Compartment F, Row 10, Grave 1, Williamstown Cemetery.
---
ACKNOWLEDGEMENTS
My gratitude is expressed to Georgina Somers of Melbourne for permission to access her privately published book "A Biographical Essay of Captain William Henry Norman, Esq." during the preparation of this story. Georgina Somers is a distant relative of Jane Norman, the younger sister of Commander William Henry Norman.

My gratitude is also extended to Cliff Sanguinetti of Black Rock, Victoria for his continuing interest in the Cerberus and arranging for me, an introduction to Georgina Somers.
---
ENDNOTES
1 "The Argus" Saturday, January 22nd. 1870. Page 7.
2 "Australian Colonial Navies" by Colin Jones. Published by the Australian War Memorial, 1986.
3 "The Argus" and "The Williamstown Chronicle" Saturday, 22nd. January, 1870.
4 "The Cyclopedia of Victoria" Vol. I. Published by The Cyclopedia Company, 1903. Page 255.
5 "HMVS Cerberus – Battleship to Breakwater" by R.J. Herd, B.Sc. Pub. Sandringham Council, 1986.
6 "A Biographical Essay of Captain William Henry Norman Esq." by Georgina Somers. Privately published.
7 Ibid.
8 "The Geelong Advertiser" Saturday, 22nd. April, 1871.
9 "HMVS Cerberus – Battleship to Breakwater" by R.J. Herd, B.Sc. Pub. Sandringham Council 1986.
10 "The Geelong Advertiser" Saturday, 22nd. April, 1871.
11 "A Biographical Essay of Captain William Henry Norman Esq." by Georgina Somers. Privately published.
12 "A Biographical Register 1788-1939" Vol. II. Compiled and Edited by Gibbney H.J. and Smith Ann G.
13 "A Biographical Essay of Captain William Henry Norman Esq." by Georgina Somers. Privately published.
14 Ibid.
15 John Elverson


---
APPENDIX I
THE LATE CAPTAIN NORMAN
The Argus, Saturday, January 22, 1870. Page 7.
Telegraphic intelligence via Galle has brought the news of the death in England of Captain William H. Norman, late commander of H.M.C.S. Victoria, who had been sent home about a twelvemonth since to superintend the fitting for sea of the ironclad Cerberus, promised by the Imperial Government as a present to this colony, and to bring her hither. His health, it appears, broke down shortly after he reached England. Combined disease of the lungs and heart, with dropsy at a later stage, told fearfully upon a system tried and worn by the hardships of 45 years of sea life, and that he at length succumbed created small surprise.

Although his wife and family were left behind at Williamstown, it is consoling to think that the few last months of his life were cheered by the attentions of his sister and not a few Australian friends in England, among whom was the Hon. G. F. Verdon, C.B., agent general for Victoria. Till the next mail arrives, we can know very little of the manner and circumstances of his death. We regret to know that he has left a widow and large family to mourn their loss.

The history of Captain Norman is eminently the history of a man of action, and his acknowledged stores of professional knowledge were gained by some of the hardest work a man can be called upon to undergo. He was born in March, 1812, at Uphoe, in Kent, and thus death cut him off in his 58th. year. He was bred to the mercantile marine, in which he soon became a master mariner, and one of his earliest employments in that capacity was as captain of the Lord Hungerford, a vessel owned by Captain Farquharson, which post he retained for nine years. In December, 1848, he was appointed to the Coromandel, and remained there for four years. We are not exactly informed of the trades in which these vessels were engaged, but in 1851 he entered the service of the General Screw Steam Shipping Company and superintended the fitting out of the Lady Jocelyn, which he brought out to these colonies for one trip. On his return he was appointed to the Queen of the South, belonging to the same company. Among her passengers was the late Sir Charles Hotham, K.C.B., who was on his way to assume the governorship of Victoria. Sir Charles, acknowledged to be one of the ablest officers in Her Majesty's navy, was much struck with the character of Captain Norman, and endeavoured to secure his services for the new colony of Victoria.

The Russian war was raging, and shortly after his arrival Sir Charles decided to have built for the colony an armed steam sloop, such as the Victoria has turned out to be. Accordingly he gave Captain Norman a commission to have such a vessel built, and when the Queen of the South returned to England, her commander left her and threw himself heart and soul into the Victorian service.

The result was as we have indicated, the building of H.M.C.S. Victoria, whose model, and the character of whose build, has been the admiration of every competent judge visiting these waters. Shortly after bringing this vessel to Hobson's Bay, she began under Captain Norman's command that series of public services which has rendered her name famous throughout Australasia.

About the first of these was her voyage to Port Curtis, to fetch from thence the foolish people who had been lured thither in search of gold, and Mr. O'Shanassy, then Chief Secretary, acknowledged in writing the "zeal and ability" of the commander in the performance. In 1859, Captain Seymour, of H.M.S. Pelorus, then in Hobson's Bay, wrote to His Excellency Sir Henry Barkly, then Governor, in praise of the Victoria and her condition, which was such as – to use his own words – "to reflect the utmost credit on Commander Norman."

When in 1860 the New Zealand war broke out at Taranaki, this Government decided to send Captain Norman with the Victoria to the assistance of the colonial Government of New Zealand. After 12 months' service she returned, and in a letter dated "Camp Waitara, New Zealand, 30th. March, 1861, "the Governor of that colony, His Excellency Colonel T. Gore Browne (now Sir Thomas Gore Browne, K.C.B.) acknowledged his sense of the "valuable service" rendered by the Victoria, adding, as respected Captain Norman, "your zeal, activity, and the punctuality with which you have performed duties of an especially arduous and harassing nature command our admiration and esteem."

Commander Cracroft, RN., of H.M.S. Niger, and Major-General G. S. Pratt, C.B., then commander-in-chief of the troops stationed in Australia, also wrote to Captain Norman in similar terms, and the Governor of New Zealand repeated his former statements in a formal despatch to the Governor of Victoria. On Captain Norman's return to this colony the then Chief Secretary (Mr. Heales) formally informed him of his (Mr. Heales's) high sense of the value of the distinguished services rendered; and subsequently when addresses of thanks from both Houses of Parliament were presented to Major General Pratt in respect to his conduct during the New Zealand war, handsome reference was made in them, and also in General Pratt's reply, to the "conspicuous courage and energy so eminently displayed" by Captain Norman and the officers and men under his command.

A few months afterwards the news that Burke and Wills had started to go across the continent, and were probably at the Gulf of Carpentaria without the means to support life, reached Melbourne, and a supplementary exploring expedition by sea was immediately decided upon. It was arranged to be under the command of Captain Norman in the Victoria, which, with other vessels containing stores, got together with extraordinary promptitude and energy, was despatched to the gulf. The admirable manner in which this "responsible and hazardous duty" was performed, was testified to by written testimonials from the Governor and Executive Council of Queensland, by the Chief Secretary of Victoria (Mr. O'Shanassy), and also by the Exploration Committee of the Royal Society, whose chairman (Sir W. F. Stawell, Chief Justice), presented Captain Norman with a highly complimentary address. The Victorian Government also took occasion to acknowledge the useful hydrographic work done by the Victoria while at Carpentaria and in Torres Straits, and subsequently the Duke of Newcastle, writing to Sir Henry Barkly, transmitted, on behalf of the Lords Commissioners of the Admiralty, their thanks to Captain Norman "for the zeal he has shown in so carefully examining and describing these reefs" (the Chilcott Rocks in Torres Straits). The noble Duke in another despatch commented on the "very able and efficient manner" in which Captain Norman had managed the expedition.

A vast number of smaller services performed by the Victoria under Captain Norman culminated in his carrying to Tasmania the salmon ova which have since proved so productive. That was in June, 1864, and on the 30th. July following, Mr. McCulloch, then Chief Secretary, put the Victoria out of commission, at the same time conveying in a formal letter to Captain Norman an "expression of the satisfaction entertained by the Government" at the manner in which he had always discharged his several duties.

Although the Victoria was put out of commission she remained under Captain Norman's command, and was so efficiently kept as to be able to render many suddenly required services to the colony. The most important of these was her rescue of the shipwrecked passengers and crew of the Netherby from King's Island, a duty skilfully performed.

For a considerable time previous to Captain Norman's departure for England, the Victoria was employed under his command in furtherance of the Admiralty surveys of the coast. The distinguished part taken by her and her gallant commander in the reception of the Duke of Edinburgh will not soon be forgotten.

There is no need to multiply instances of the sort given above. Suffice it is that Captain Norman has always been regarded as one of the ablest seamen who ever entered this port, and as to his other qualities it is doubtful if he had an enemy when he died. Certainly, between him and those who served with and under him there always existed the warmest feelings of regard. His latter years were somewhat embittered by a fear lest in his old age he should be turned adrift by the Government, and at one time this appeared to be so nearly the case - when Mr. McCulloch was away from Melbourne and Mr.Verdon was in England - that he was ordered to give up the Victoria altogether. He managed to tide over that difficulty, but others awaited him. His own desire was to succeed Captain Ferguson as chief harbour-master, for which post he was pre-eminently qualified; but the only position which as a return for his great services he was offered by the existing Government was that of water police magistrate. This he felt unable to accept.

When, however, he was sent by Mr. McCulloch to take charge of the Cerberus, his mind cleared, his spirits rose to their old level, and he felt a new man, seeing his way to a most acceptable sphere of duty. Had he lived to return, his utmost wishes would probably have been gratified, for we are led to believe that the desired post of chief harbour-master would have been given him. Since the news of his death has arrived, the flags in the bay, Williamstown, and Sandridge have been at half-mast, and his loss has been widely and deeply regretted.
---
APPENDIX II
DEATH OF CAPT. NORMAN
The Williamstown Chronicle, Saturday, January 22, 1870. Page 6.
The mail which has just arrived has brought the melancholy intelligence of the death of Captain Norman, V.N., who had proceeded to England to bring out the iron-clad Cerberus. The intelligence which had been received by the previous steamer concerning his health served to produce among his friends the greatest anxiety, and further information was eagerly looked for by them.

As the subject was not referred to in the telegram, it was hoped that the gallant gentleman was in a fair way of recovery, and it was not until some time after the English news was published that his decease was known. This uncertainty arose chiefly from the fact that the occurrence was not mentioned by any of the English papers, the Mail, by which it was thought such an event would not be allowed to pass unnoticed, merely stated that he was seriously ill at Ramsgate. Yesterday, however, it became known that the Chief Secretary had received a telegram which the Agent-general had despatched after the mail left, to the effect that Captain Norman had breathed his last among his friends at Ramsgate. The flags of the ships in the bay and of the public buildings and many of the private residences in Williamstown were lowered to half mast, and everywhere the greatest sympathy was expressed for the family of the deceased gentleman.

In Williamstown especially the intelligence cast a gloom on the community, for Captain Norman was one of the oldest inhabitants of this district, and during the time he was located in our midst he endeared himself to his townsmen by his benevolence and manliness of character, and by the display of those qualities which are calculated to make a man honoured and beloved. With our first war steamer, the Victoria, of which he was the commander during the whole of the time she was in commission, his name will ever be associated. He brought her from England, and was in charge of her when she was despatched to New Zealand to assist in the Maori war. He afterwards proceeded in her to the Gulf of Carpentaria, and here, it is believed, his constitution received the first shock.

When his little vessel was laid up, and the Government had decided to purchase the Cerberus, it was thought that from his skill as a navigator, and in consequence of the services he had rendered to the country, no one was better entitled than he to bring her out and retain command of her after she arrived.

On leaving the colony with that intention he was not in good health, and the climate of England seems rather to have aggravated than lessened his complaint. His loss will be felt, not only by his friends, but by the colony, whose faithful servant he was. Generous, warm-hearted and sincere, he will long live in the memory of those who were honoured with his acquaintance.
---
Letter re Captain Norman's death


Crew member of HMCS Victoria 1860-61. See Victoria & Australia's First War, Ian MacFarlane & Neil Smith, Mostly Unsung Military History, Brighton 2005.