Thomas Bungalene
(aka Bungaleen & Bungeleen)
(aka Marbunnun)
Seaman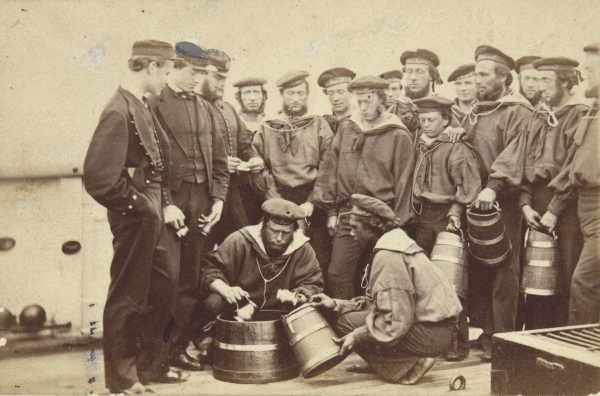 Thomas (squatting) & other crew members of HMCS Victoria receiving their rum ration ca 1861.
Photo from the State Library of Victoria, Picture Collection.
---
"Thomas Bungaleen was the son of a Gippsland headman whose family was brought to Melbourne by the Native Police in 1847. After his father's death, the boy was placed in the Merri Creek Aboriginal School under the supervision of Assistant Protector of Aborigines William Thomas.
Carol Cooper - Source
---
"In 1860 the Victorian Board for the Protection of Aborigines (BPA) became interested in the 14 year old boy called Thomas Bungalene, who was working in the survey office. The BPA decided that he should be sent to St Kilda Grammar School in order that he would "receive a good education and become fitted for some profession". When the principal of St Kilda Grammar School refused to admit him, Scotch College was approached; again he was turned away. Bungalene was placed in the charge of a schoolmaster, Robert Doig, who was paid an annual fee to look after the boy''''''''s education and board. After six months the arrangement faltered, and the board decided Bungalene should go to sea. He died only a few years later."
Taking Assimilation to Heart, Katherine Ellinghaus.
---
"In its first report, issued in 1861, the Board went so far as to express its hope that the boy Thomas Bungalene captured as an infant in 1847 by white raiding parties in search of the mysterious "white woman of Gippsland" and fostered by various officials of the Protectorate and Guardian ever since, might yet become a good citizen."
White without Soap, Marguerita Stephens, 2003 Melbourne University
---
In 1861, Bungaleen was bonded to work on the steamship Victoria, where he won approval following a trip to the northern coast in search of the missing Burke and Wills Expedition. Bungaleen died in 1865 and was buried in the Melbourne Cemetery."
---
"Thomas received no wages in the navy but was outfitted at the expense of the Board for the Protection of Aborigines."
Victoria. A History of Her Majesty's Steam Sloop Victoria, Ian MacFarlane unpublished manuscript.
---
Grave Marker
Image:
Museum Victoria

Thomas Bungeleen (an anglicised version of his father's name, Bunjil-ee-nee) was "a lonely lad who spent his life among alien people" (Barwick and Barwick, 1984: 9). He was kidnapped from his tribe in 1847 by Police officers and taken to Melbourne with his father (a ngurungaeta of the Waiung clan, of the Brabralung group of the Kurnai of Gippsland), mother, brother and other family members. Thomas was two years old at the time and his brother, Harry, aged six months. His father died at the Narre Narre Warren Native police barracks. Thomas' mother died 3 years later, and in 1851, he and his brother were placed with a Melbourne schoolteacher and taught European habits. They were publicly baptised. Harry died in 1856, and Thomas, now aged 11, was said to have become increasingly uncontrollable. He was made a messenger for the lands department, and visited Simon Wonga (ngurrungaeta (clan head) of the Wundjeri-balak clan of the Woiworung of the Kulin) on several occasions. However, Thomas was said to be "getting into bad company" after hours (Barwick & Barwick, 1984: 10), and in 1861 was bonded to service on a steamship. Thomas was bitterly unhappy and asked to be sent to live with Simon Wonga and his people. His request was refused and he continued to serve on the steamship until 1864, when he was sent to train as a draftsman. Thomas Bungaleen died in January 1865 of gastric fever, aged 18 years. He was buried with his brother in the Melbourne cemetery. Simon Wonga made a wood carving in memory of Thomas Bungeleen. The story told in the carving was summarised later by surviving Yarra people as:


...the men represented in the upper part ...are friends who have been appointed to investigate the death of Bungeleen; the figures of the birds and animals....indicate that he did not die for lack of food; and the strange.....forms below the hollow band are those of Mooroops, or spirits who have caused the death of the Koori by their wicked enchantments (Barwick & Barwick, 1984: 9). [It is thought the Mooroops referred to here are the lohan (white men).]

The Mental Health of Indigenous Peoples, editors - Laurence J. Kirmayer, Mary Ellen Macdonald & Gregory M. Brass.
---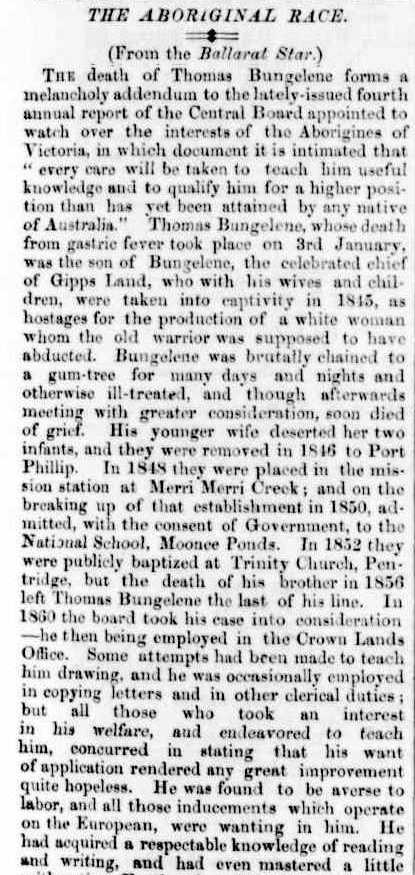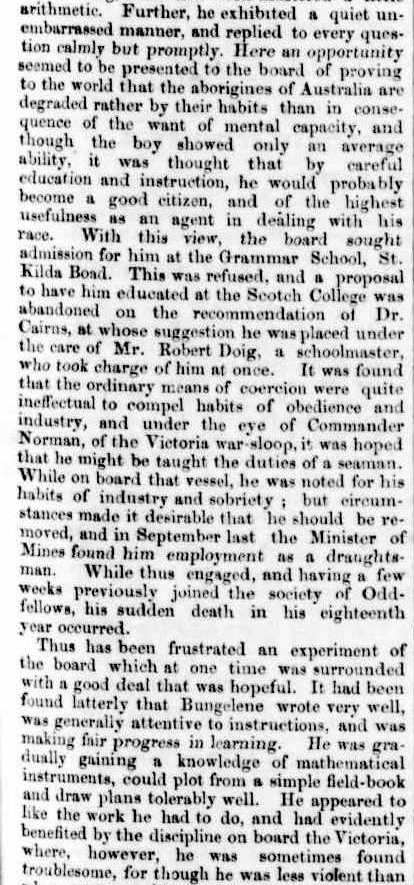 excerpt from The Ballarat Star, 4 February 1865,
(courtesy of the National Library of Australia)
---
The Tragedy of Thomas Bungelene by Philippa Scarlett