Hubert Harry Jones
Paymaster Commander
The photo shows Hubert Harry Jones, who was the Paymaster Commander on HMVS Cerberus in the late 1890's.
Source - Mrs Joan M. Whyte and David Stirling Whyte (great grandson of Paymaster Jones).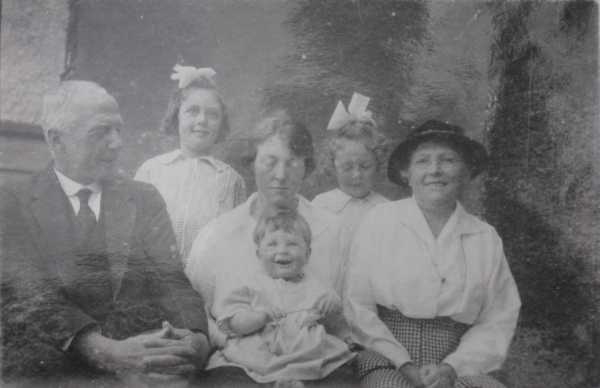 Ex-Paymaster Commander Jones & his wife Elizabeth in 1918.
Centre is their daughter Dorothea holding her son, John Stirling Whyte with Dorothea's step-daughters behind.
Details courtesy of David Whyte. Photo courtesy of the Museum of HMAS Cerberus.
A note with the photo states that the ex-commander paymaster is "in HMVS Cerberus with family". Whether this means that the photo was taken in Cerberus or that the Paymaster was from Cerberus is not known.
Hubert Harry Jones (accountant) born in Launceston married Elizabeth Nancy Cook in 1890 in Victoria and died in 1925 aged 64.
---
Donation of Cap Tally to Museum of HMAS Cerberus in 1985.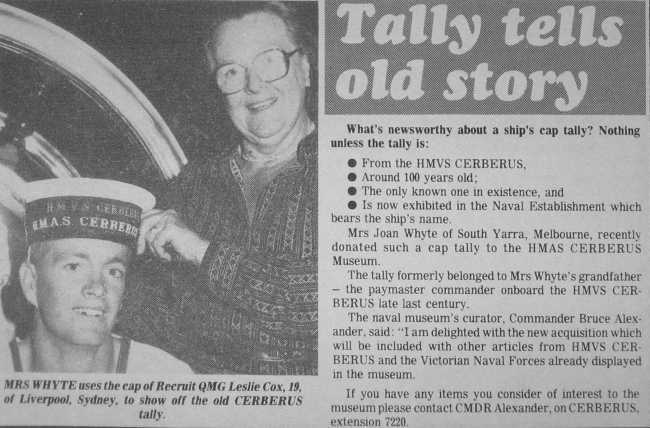 Newspaper Title Unknown, 8 March 1985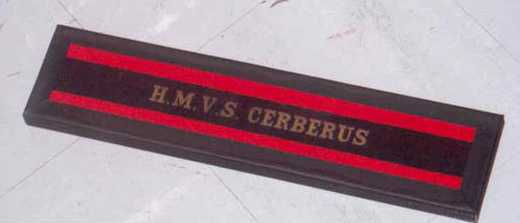 HMVS Cerberus Cap Tally in the Museum of HMAS Cerberus
The cap tally above is the only known original HMVS Cerberus cap tally and is on display in the Museum of HMAS Cerberus. The red cloth is not part of the cap tally