Harry Moore
aka Henry Moore aka Black Harry
Able Seaman
DEATH OF HARRY MOORE.



HARRY MOORE.

With the death of Harry Moore, which occured on Wednesday night, a very well known figure in the community has been removed. Moore, who was aged 110 years, was of Jamaican origin. He left Jamaica in 1836, and after spending some years at sea he went to New Zealand, where gold had just been discovered. It is about 80 years since he came to Melbourne, and as long as his strength lasted he worked as a stevedore here. For the last 30 years he lived in Port Melbourne. Harry Moore was posessed of an exceptionally good physique, and it is only in recent years that he showed any signs of decrepitude.

The Argus, 7 May 1926
---
108th BIRTHDAY TO-DAY.

Mr Harry Moore, of Ross street, Port Melbourne, is aged 108 years to-day. Mr Moore was born in Jamaica in 1816, arrived at Port Melbourne in 1847, and has lived there ever since.

The Argus, 27 February 1924

107 YEARS OLD TODAY

MR. HENRY MOORE.

of 131 Ross street, Port Melbourne celebrates today his 107th birthday. He is well known in the district as "Black Harry". He was born in Kingston, Jamaica, in 1816. Landing in Port Melbourne in 1847, he has resided there ever since. He claims to be the oldest stevedore and naval reservist alive. He is shown wearing the Soudan medal and a long service medal from His Majesty the King.

The Argus, 27 February 1923
---
On Monday, Henry Moore, familiarly known as "Black Harry," of Port Melbourne, will celebrate his 106th birthday. Mr. Moore, who was born in Kingston, Jamaica, in 1816, arrived in Port Melbourne in 1847. He is believed to be the oldest wharf labourer and naval reservist. Mr. Moore joined the Naval Brigade when it was formed, and later transferred to the Naval Reserve. He was cook for the Submarine Mining Company at Swan Island for 17 years, and cook for the late Sir William Clarke and Mr. J. L. Purves on the yachts Janet and Secret respectively.

The Argus, 25 February 1922


Perhaps the only survivor of her (the Lightning) first crew is "Black Harry," a coloured man, who lives in Port Melbourne. "Black Harry" has celebrated his 105th birthday.

The Argus, 11 June 1921

Mr. Henry Moore, of Ross street, Port Melbourne, who is locally known as "Black Harry," will be 107 years on Monday, having been born on February 26, 1816 in Kingson, Jamaica. He has lived in Port Melbourne continuously since his arrival, 76 years ago, in the ship British Queen. Excepting for two comparitively brief periods as cook on the pleasure yachts Janet and Secret, owned respectively by Sir William J. Clarke and Mr. J. L. Purves, K.C. Mr. Moore regularly followed the occupation of a wharf lumper. Posessing great strength he was wont to describe bales of wool as "toy" cargo, and his invariably cheerful temperament made him a general favourite. In 1868 he helped to unload the ship Thermopylae of the Aberdeen Line upon the completion of the fastest voyage - 60 days - from London, ever accomplished, or even equalled, by a sailing ship. Aided by sticks, Mr. Moore still indulges in walking exercise. His faculties are wonderfully keen, and many of his teeth well preserved. He was an original member of the Royal Naval Reserve. His second wife is living, but he has no family.

The Argus, 24 February 1923
The extreme age of 101 years was this week attained by Mr. Harry Moore, a coloured man, who has been a resident of Port Melbourne for the past 60 years. Mr. Moore left his home on the island of Jamaica 81 years ago, and since he settled down in Port Melbourne he has been employed as a stevedore or cook on various ships. He was for many years the cook on board the private yacht of Sir William Clarke. Although he has passed the century mark he is active and fairly vigorous. He writes, reads, and hears well, and frequently visits Melbourne, where he walks in the streets in apparent ease and comfort.
The Hobart Mercury, 3 March 1917
---
The Standard, 8 March 1919 - Harry Moore, 103, oldest resident in Port Melbourne, better known as 'Black Harry'. Oldest Naval Reserve man living in Port Melbourne. Joined Naval Brigade in April, 1868, sworn in by Dr Thomas JP on 1 May 1868. Joined Naval Reserve, 17 Mar 1871 and resigned 18 August 1891. Arrived in Sandridge in 1847 on British Queen.
The Record, 3 March 1923 - 'Black Harry', Port Melbourne identity, Harry Moore aged 107 on Tuesday 27 February 1923. Highly skilled in cooking. Sought after by yachting gentlemen. Takes a walk along the sea front daily. Faculties are remarkably alert.
The Record, 8 March 1924 - Henry Moore flew over Melbourne on the occasion of his 108th birthday becoming the oldest man in the world to have flown.
The Record, 8 May 1926 - Death of Henry Moore. 5 May 1926. (long article)
Research by David Thompson, Port Melbourne 1919-39,
Port Melbourne Historical and Preservation Society.
---
Given Harry's name, date of entry, being in the Naval Brigade and having been awarded a long service medal it has been assumed that he is the H. Moore of the Naval Brigade that was mentioned in The Argus newspaper on 8 September 1884 as having received the Victoria Volunteer Long & Efficient Service Medal on 6 September 1884. If this is he case then Henry's rank would have been Able Seaman.

From the 15 years service needed to qualify for the Long Service medal it is clear that Harry was credited for service in the Sandridge Naval Corps of the Victorian Naval Brigade that pre-dated the Naval Reserve. In 1871 Harry received a land warrant of £20 for one year and one month of service of the two years and 11 months service that he had claimed for serving in the Sandridge Division of the Naval Brigade. It would therefore follow that Harry joined the volunteer Naval Brigade in April 1868.
Harry's death certificate indicated that he died on 5 May 1926. Harry had been married three times but had not fathered any children. The names of Harry's parents and first and second wives were listed as unknown. The name of Harry's third wife was Elizabeth Lancley? who he married when he was 80.
Research into Harry Moore's life was sponsored by Brian Russell.
---
---
NOTE:
Victorian Naval Reserve records held by the National Archives of Australia, record that Henry Moore, 5 ft 8 inches, with dark eyes and dark complexion, stevedore of Port Melbourne who signed up on 17 March 1871 gave his birth date as 1830. There is also a memo from Edward Hayes, Instructor Pt Melbourne Brigade, stating that Henry resigned from the Naval Brigade on 31 March 1883 and not at the later date as recorded in error on a second discharge certificate. It would appear that Henry made two errors with regard to dates. Henry claimed to have served in the Naval Brigade until 18 August 1891 instead of 31 March 1883 and was actually 96 at the time of his death instead of 110 as claimed.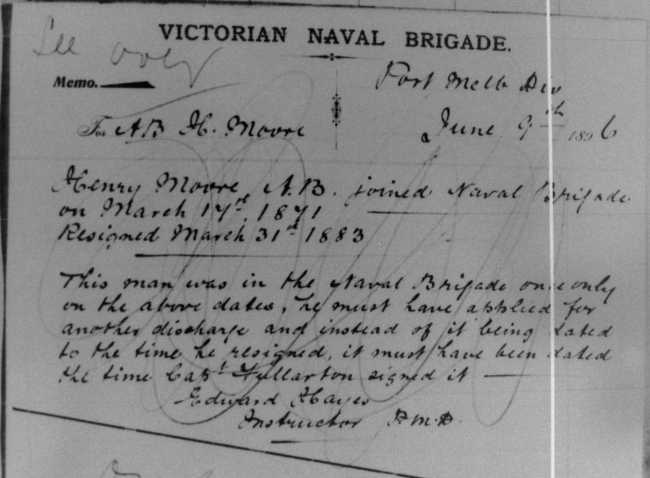 Memo courtesy of the National Archives of Australia, Series B5493
---
When Captain Fullarton retired in 1892 he said "When he first joined the brigade old Harry Moore, whom he was glad to see in the room that night, was his right hand man." The Argus, 30 June 1892
---
The Barrier Miner (Broken Hill, NSW), 3 March 1920.
---
BLACK HARRY.
RECALLS EVENTS OF THE PAST.
DOES NOT FEEL OLD AT 98.
Hobbling along the wharf of the lagoon at Port Melbourne, he looked the reincarnation of Uncle Tom, which fancy was further borne out by the presence of a pretty little white girl about 10 years old, who might have been little Eva. But the old man was Harry Moore, otherwise "Black Harry," a vigorous ancient of 98 years, a negro born in Jamaica, who since 1817 has looked upon Melbourne, and particularly Sandridge, as his home. At one time he was considered the strongest man on Port Melbourne wharfs, and, in spite of his stiff legs, "caused through a kick from a wild horse way back in '63," his frame still shows traces of great power. Like most sailors of the receding past he wears rings in his ear lobes. There is very little trace of the corner man's version of the negro dialect about Moore. He does not say "Sah," nor has he any affection for a banjo, while no recollection of a "Massa" is found in his conversation. His talk is that of the old salt, with a refreshing freedom from the adjectives of many of his white compeers.
—"Bucko Mates" Described.—
'Yes, sir/' said he (to a representative of The Melbourne Herald), in reply to a question, "I have lived a long time — so long that I get a bit mixed up with dates. I went to sea when I was 18, in a 90-ton brig, Camellia, which called in at Kingston, and took in logwood and sugar. She was a Newfoundland ship. Only eight hands were carried, me as ordinary seaman. I first saw Liverpool in that brig. In those days the 60 tonners would go all over the world. Food was rotten, and we had bucko mates, too." What is a bucko mate? "Ho, ho! You dunno what a bucko mate is. You'd rare quick find out if you sailed with one. They're men drivers, lick any man into doing what he's told, an doing it smart. Belaying pins flying round and kicks and fists. Deep water men know what a bucko mate is, though its nothing now to what it used to be.
—Eventful Landing.—
Moore is doubtful about the particular boat in which he landed, and his doubts are a little significant, because he tells a story which he thinks might get him into trouble, even after all the intervening years. It was, an emigrant vessel with 600 passengers for Port Phillip. After the passengers had gone overboard in vessels to their landing place, there were only the chief mate, second mate, and a policeman in the cabin having dinner. These the 18 of the crew locked in the cabin. They then took all the oars they could find, put them in a boat, and set out for Red Bluff, where St. Kilda now is. Some of them sold the boat to fishermen, and then divided. Moore and his two friends asked "an old fellow to tell us the road to Melbourne." He, said— "You are going into the shark's mouth; any one can tell that you are runaway sailors. Go up to Cremorne Gardens and take the ferry." "Which we did." says Moore. "It cost us 6d. each to get across. The Botanical Gardens are near there now, and they used to hold all the sports meetings there. Then we went to Jika Jika, part of winch is called Collingwood to-day. There used to an old stockade where Carlton is at present. We got work shifting dirt. We got 10/ and 12/ a day. We afterwards went up to Stonv Creek — or was it Merri Creek? Blundell was the only street then, and at the end was a "pub." All around were gumtrees — nothing but gum trees — with, tents dotted about.
—Historic Race Recalled.—
When the diggings were booming visiting ships could not hold crews, and £40 was offered for sailors for a trip home. Moore took to the sea under these inducements, and traded back and forwards from England to Australia for some years. Among the old-time ships in which he served were the James Bains, the famous Marco Polo, and Lightning. He was an the latter boat when the historic race with the Red Jacket (afterwards burned at Geelong) was sailed. The Red Jacket struck the reef going out of the heads, carried a rock in her hull to Liverpool, where it was found when in dock. She was beaten by the lightning on the, run home by 40 hours. Both boats carried double crews of 40 men, as competition in the wool trade was keen among the clippers of those days.
—Mutiny at Bahia.—
The Commodore Perry was another old familiar ship of the early days on which Moore was cook. It was while at Bahia (he calls it "Byhee") that he witnessed a mutiny. He says:— "The trouble was all because the men did not get coffee in the morning. Then they could get rum at 1/ a demijohn, and it would kill at 40 mile— my oath it would. The men threw the holystones at the officers, pitched all the water casks overboard, and took all the belaying pins they could. They got down into the fo'castle, and waited, and whenever they saw an officer they would try to kill him by throwing belaying pins. The captain got his brass signalling cannon and loaded it up with nails and bits of iron work, and turned it on the fo'castle." What happened then? "He blew half of it into the middle of next week. Then the 'Johnnv Dams' came off from the shore, and they took four ringleaders, who were sent home, and got two years for raising a mutiny in a Government ship." A sight that is vivid in the memory of Moore, and one that caused him to shudder at the time, was that of slaves with frames round their necks, offered for sale at Bahia, and gangs working with an overseer who carried a whip.
—Early Australian Navy.—
Moore was for many years in the Naval Brigade, the earliest Australian aspiration for a navy, and he has drilled many a day on the old Cerberus, which now lies forlorn and neglected in the bay. He also drilled on the Nelson, which was built to commemorate the victory of Trafalgar, and was afterwards given to Victoria. The top decking was cut down during the period of depression some years ago, and afterwards sold to Sydney, where it was broken up by wreckers. Moore has medals for his service in the Naval Brigade and Volunteers, one of which was given on the occasion of the visit to Australia of the present King. The old man always wears them when he is abroard in his Sunday coat. In fact, they are never removed from the coat. For his service he was given a bonus with other men of the naval volunteers. He claims that for his service in the Naval Brigade he was entitled to 50 acres of land— a Government grant but that - he has never seen a square inch of it. When the Maori war was on in the early sixties, Moore was one of those who volunteered for service, but when they reached New Zealand the war was over. Each of the volunteers was understood to have been entitled to a grant of land in New Zealand, according to Moore. But again he says he has never seen any of it. But as he also remarks, "Perhaps I didn't bother enough."
—Price's Death Recalled.—
At the time of the murder of Capt. John Price by convicts, Moore was working at Williamstown blasting stone for the Geelong line. "Jess," he says "where the old-time clock now? We Heard 'Hooray! Hooray!' and when we ran up we heard people saying, 'Old Price is a goner.' And he was, sure enough. They cut him to pieces with shovels." Moore served as cook on the Secret and the Janet, the luxurious yachts belonging to Sir William Clarke and his son Sir Rupert. "The late J. L. Purves was often with us. They built the Janet at the foot of Emerald Hill. Capt. Bannor was the skipper. We used to beat all the boats racing. The Volunteer, the Era, and the New Zealander, Taniwha, we beat them all. I was on the Secret when she was wrecked in Waratah Bay, on Lower Snake Island, and we stayed there during the Christmas time. The insurance people took her off. The Janet has been turned into a crayfish craft since.
— Port Phillip Stevedore.—
Moore cooked for the submarine miners for 16 years, and up till 10 years ago worked on the wharfs as a stevedore, dealing with the cargo on the vessel. . A bale of wool fell on him one day, while he was working in the hold, and three ribs were broken. "It knocked me into a cocked hat, I can tell you." he said, "but I was a pretty powerful fellow in those days, and turned to work -the next day. That's where I did wrong. The other man in the hold, who got knocked at the same time, he laid up, and he got £400 for it, while I got nothing. If I had laid up I would have got something. I was a member of the union when I was working."
—Three Times Married.—
Moore has been thrice married, and his present wife is nearly 30 years younger than he. He gave up active work some years ago, when 88, and is occupied as caretaker of the Port Melbourne Yacht Club premises. Born two years before the late Queen Victoria, he looks to be comfortably on the way to his hundredth birthday. Although he confesses to sleeping in his young days in cemeteries, and to generally living a care-free life, it does not seem to have impaired his health. His one regret is that when money was easily come by be did not realize that he would some day be old. "I never thought that I would ever be old; I don't feel real old, but I can't do the work that will bring me much, in the way of comfort, and there is the wife and the rent of my little house."
The Register, (Adelaide, South Australia) 23 May 1914.
---
Among others "who lined up were two distinct veterans in life's

long

evity - Mr. Harry Moore, a re

spected A.B. of color, and Mr. F.

Harden, still stalwart, tall and

loud-voiced. Mr. Moore is 89; Mr.

Harden 80. Each had seen active

service

before joining the colonial

naval force - one in the Crimea, the

other in British ships. When Mr.

Mooore, who is slightly lame in one

leg, went up to receive his

medal

there was a salvo of applause from

both the enthusiastic naval cadets

drawn up and his old, comrades.
Williamstown Chronicle, 26 October 1912