HMVS Gannet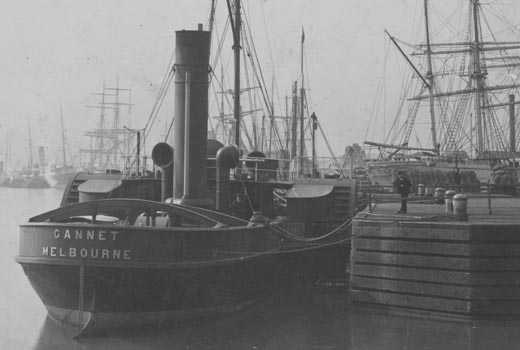 HMVS Gannet
Armed Paddle steamer - 12 knots Gannet was briefly armed with a rifled 64 pounder gun & from 1886 one 6 inch 4 ton BL gun. Magazines & shell rooms were fitted & arrangements made for berthing the officers & men.
Trial Trip of the Harbour Trust Steamer Gannet
The trial trip of the new paddle tug steamer Gannet, belonging to the Melbourne Harbour Trust, and which was fully described in The Argus of last Saturday, was made yesterday in the presence of the commissioners of the trust, nearly all tho members of the Ministry, and other gentlemen. Amongst those on board were Mr Service, Premier , Mr Berry, Chief Secretary, Colonel Sargood, Minister of Defence Mr Kerferd Attorney General Mr Langridge, Commissioner of Trade and Customs, Mr Thornley, M L C , Mr D Gaunson, M L A., Mr Patterson, M L A , Major General Downes, secretary to the Council of Defence, Captain Thomas, commandant of the Victorian naval forces, Commander Collins, Mr Ford, one of the Railway Commissioners nnd Mr Mouritz, secretary to the Harbour Trust. The Gannet is a powerful 12 knot boat, which has been specially built strong enough to carry a gun in the bows and join the Victorian defence fleet in time of war. She steamed slowly down the Yarra, and then putting on full steam, showed what she could do in open water.......
The Argus, 2 May 1885

Ships Index