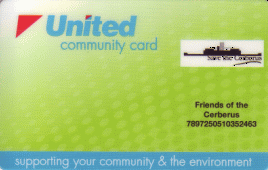 Friends of the Cerberus is now able to offer our supporters a Cerberus United Petroleum Community Card. When members buy United petrol, diesel or LPG and present their Cerberus branded United Community Card, Friends of the Cerberus will be credited with one cent for every litre of fuel purchased.

The card is labelled with our name and logo but does not identify individual card holders to United. We have simply been given 300 cards to distribute to any of our supporters who wish to use them. To participate in the scheme United does not require any information about our members so participation will not involve any contact from United or any other organisation.
Having just purchased 66 litres of petrol I can vouch for the scheme's ease of operation. When paying for fuel the Community Card is swiped on an EFTPOS type machine either before or after making the payment. Although there is no discount for card holders, Friends of the Cerberus will receive one cent per litre. Obviously one cent per litre will not be enough to undertake stabilisation of Cerberus, but it will assist with our campaign costs.

Members will need to do their own price comparisons, but it is my experience, that in Ballarat, United petrol is the same price or lower than discounted Coles or Safeway petrol. I have even paid ten cents less than the discounted Coles and Safeway price, although this is not often enough for my liking.

Supporters wishing to be sent a Cerberus Community card simply need to click here and tell us their name, address and number of cards that they want. Commander John Toogood (Victorian Navy) will then post an explanatory letter and card(s) to you. Your details will not be passed on to anyone outside of Friends of the Cerberus.

United sells 91 octane petrol, 95 octane ethanol blend petrol, 98 octane petrol, diesel and LPG. United Service Station locations are listed on the introductory letter and on their website locations page.
Send me a Community Card