Flying Deck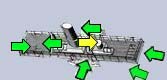 We are standing on the top of the Conning Tower (in 1968) with the Flying Deck completely gone. With the cover missing from the Aft Gun Turret we can see the two guns.


Both replacement guns were installed in this turret. The left gun (here being knelt on) is the Mark II gun that was installed in 1898. The other is a Mark I, and was installed in 1885. Whereas the gunports

are clearly visible, harder to see are the sighting holes

(on the back of the turret roof) are three of the five sightingholes.
Note: Both turrets were turned inwards prior to the ship being scrapped.
photo by John King 1968