HOME
NEWS
SEARCH
SITEMAP
TIMELINE
IMAGES
HELP
VIDEOS
TOUR
STORE
CONTACT
Cerberus Mini-Toolbar (version 2.0)
HOW TO INSTALL THE CERBERUS MINI-TOOLBAR
Click on Cerberus_Mini-Toolbar.exe
Select "Yes"
The Mini-Toolbar will install itself below the other toolbars. (If it is not visible check on the view menu item that ToolbarDesigner is turned on.) Also Lock the Toolbars should be off.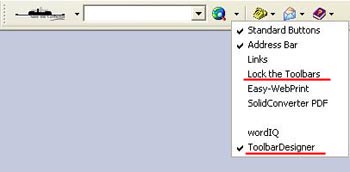 Place mouse over left end of Mini-Toolbar until the cursor changes into a double ended arrow.
Holding the left mouse button down, drag the Mini-Toolbar to right of centre of the top menubar or the browser iconbar.
Should the Mini-Toolbar not fit on the browser iconbar then there are 3 solutions.
Let the Mini-Toolbar be cut off short at the right hand end.
Cover part of the right hand end of the browser iconbar.
Remove unused icons and separators from the browser iconbar. (Right click on the browser iconbar and select "customize". Next highlight any unused icons or separators and click "remove".)
HOW TO REMOVE THE CERBERUS MINI-TOOLBAR
TEMPORARY REMOVAL
Right click on Mini-Toolbar and deselect "ToolbarDesigner".
PERMANENT REMOVAL
Select "Uninstall" from the Cerberus dropdown menu item.
Select "Yes". (If you did not install the toolbar in the recommended folder you will need to go to the Add/Remove Programs in the Control Panel.)
CONTACT US
If you have any questions about the Cerberus Mini-Toolbar, or suggestions for improvements please contact us.

John Rogers (webmaster & research)