---
Flagship rusting away
By DEREK BALLANTINE
22feb04



SPITFIRES, Hurricanes, Mosquitoes and other famous aircraft of World War II were burned or sold for parts when Kevin Patience served in the Royal Air Force in the 1960s.


So many obsolete fighters were stored at his airfield that a bulldozer was called in to smash them into scrap.

Almost half a century later, a Spitfire in flying condition is worth more than $2 million and enthusiasts would donate a kidney for a working Mosquito, the plywood marvel of its time.
So little care was taken with the world's technological heritage that only a handful of museums have original examples of the machines that waged war.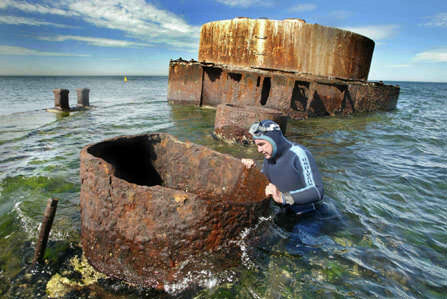 Importand relic: Kevin Patience inspects the Cerberus at Half Moon Bay, Black Rock, and contemplates a strategy to save it from further deterioration. Picture: ROB LEESON
supplied by the Herald Sun, & displayed with their permission
Wanton destruction still upsets Mr Patience, a salvage expert who has located aircraft and ships from the English Channel to the Persian Gulf.

So he wanted to see for himself the neglect of another war veteran, rusting in Half Moon Bay at Black Rock.

He believes it is a crying shame that the 19th century warship Cerberus has not attracted the interest of the Australian Government or private financiers.

She is rare -- the only one of her kind available for preservation.

But Cerberus still waits for help, her time running out, as Mr Patience confirmed when he dived on the wreck on Friday.

Showing above water are her guns and conning tower, while out of sight is a rusted hull probably only one storm away from total collapse.

Having recovered Roman anchors off Malta, surveyed a Portuguese galleon off Kenya and discovered historic aircraft on the floors of the Mediterranean and Atlantic, Mr Patience says Australia must move quickly to protect Cerberus.

"When I was a boy, I saw a photo spread in the London Illustrated News that tracked a golden era of warships from 1860 to 1906, and that's where I first saw Cerberus and Warrior," he said.

"Warrior was an iron-clad ship representing a departure from the wooden sailing ships of Nelson's time -- she is preserved at Portsmouth.

"Then along came the monitors such as Cerberus, a new generation of warships with low freeboards and radical advances such as rotating gun turrets.

"She is unique -- any other nation that had such a treasure so close to shore would be acting urgently to save it."

Launched in 1868, Cerberus was the first British warship without sails.

She was one of the first ships through the Suez Canal on her way to Melbourne, where her job was to guard Port Phillip as flagship of the colonial Victorian navy. She has been a breakwater at Half Moon Bay for 80 years, disintegrating as rescue schemes failed for want of money.

A new group, Friends of Cerberus, is seeking funds to preserve the ship, which has its guns stored inside the two turrets.

It has a modest aim of saving Cerberus from further damage.

Mr Patience believes heavy lifting equipment should be employed to support the superstructure while the hull is reinforced and its list corrected.

Then the deck and guns could be put back in place.

He also believes it would be possible to go further if money became available, rebuilding the flying deck and funnel and fully restoring Cerberus.

She would never move again, but a jetty could be built to take visitors for a closer look at what he insists is a world class heritage ship.

"The way she looks now, some people might mistake her for a barge with two dustbins on top," he said.

"But a little research tells you she is an important piece of history, representing cutting technology of the 1860s."
Index