HOME
NEWS
SEARCH
SITEMAP
TIMELINE
IMAGES
HELP
VIDEOS
TOUR
STORE
CONTACT

Body Found Inside Cerberus Wreck
---
Georgie Haberfield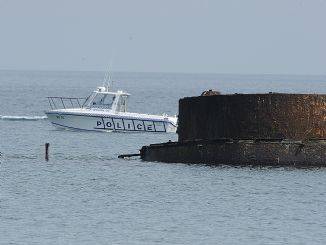 Police search teams scour the area around HMVS Cerberus.
A BODY has been found inside the Cerberus wreck near Black Rock.

Police divers retrieved the body about 8pm yesterday, after four divers found the body in the afternoon.

It is believed the body may have been in the water for some time.

Police have not yet established the identity of the body.

Mont Albert man Robert Zakarija, 39, went missing in February while snorkelling in Half Moon Bay near the wreck.

Police spokesman Adrian Kelty said DNA testing would be conducted to identify the body.

Last month, Mr Zakarija's wife, Viv, told Bayside Leader she believed her husband was the victim of a tragic accident.

Mr Zakarija disappeared about 8.30pm on February 9.

Mrs Zakarija said her husband was a strong diver who may have succumbed to a medical problem or been hit by a boat.

"He was such a caring, wonderful and thoughtful man who lived life to the full," Mrs Zakarija said.

She said her husband had grown up in Black Rock and knew the beach and bay "like the back of his hand".




Index