Wheels of HMVS Nelson & HMVS Cerberus
Wheel of HMVS Nelson



Manning the Wheel - 1898

The Australasian, 9 April 1898. Photo sponsored by Vera Keys.

Click for Full Image then click image to enlarge.
On the Quarterdeck of the Nelson - 1883

The Argus, 4 October 1941 (Mr. P. J. Shern, Mooney Ponds)

Image courtesy of the State Library of Victoria
The main wheel from Nelson (above) is on display at the Geelong Maritime Museum courtesy of the National Trust.
Look for in the left photo:-
The one non-European and three European men operating the wheel.
The handle between the left foreground man's two hands is the only one with a brass cap on it, presumably to centre the wheel on or keep track of wheel's revolutions.
Note the bell above and between the two wheels.
The date on the wheel refers to the Battle of Trafalgar which occured just nine years before the launching of Nelson and at which Horatio Nelson died.
The helm indicator (dial in centre of wheel) indicates the position of the rudder.
---
Wheel of HMVS Cerberus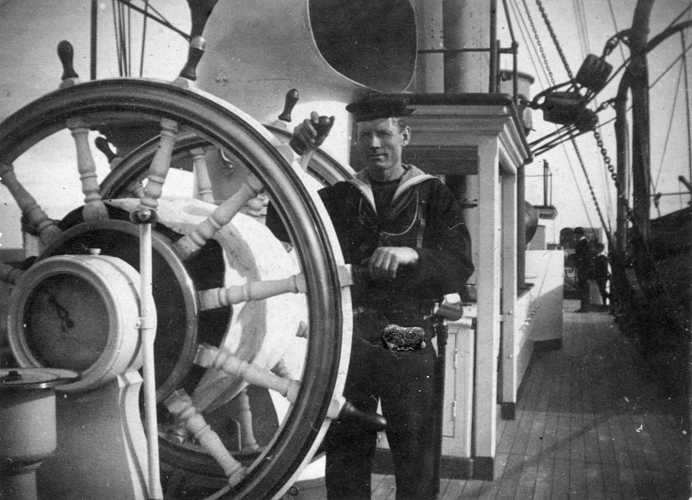 Although only one man is at the Cerberus manual wheel in this staged photo, it actually took ten men to operate the wheel. When steam steering was installed on Cerberus is 1876 only two men, as in the photo below, were required to steer the ship.
Photographed on 19 Sept 1896 by Wilfrid Grimwade aged 16. courtesy of Wilfrid Russell Grimwade collection, University of Melbourne Archives, Image ID: UMA/I/3027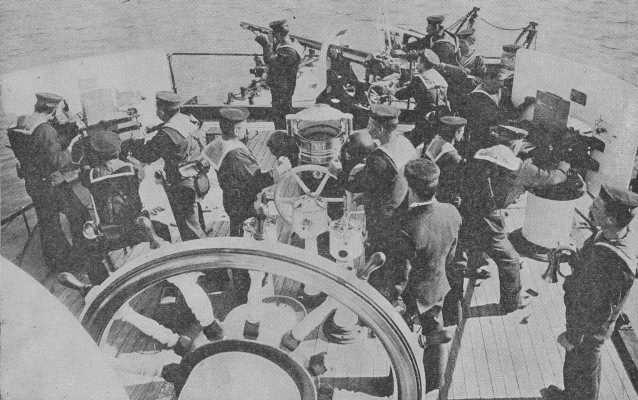 The Australasian, 28 May 1898. Photo sponsored by Robert Lawson.



So soon as lunch was over she (Cerberus) was made to exhibit her steering powers. These are so extraordinarily great, that she was not only able to turn round within her own length, but to steam close round the Nelson, almost describing a parallelogram as she did so, the angles defined by her wake were so well defined.

The Argus, 29 Sept 1871


The manual wheel from Cerberus and a second wheel from Nelson are on display at the Museum of HMAS Cerberus.