John Henry (Harry) Adeney
Sub-Lieutenant (probationary)



Captain Adeney & the boys of the Ballarat Naval Brigade on board USS Virginia.
Photo - Collection: Ballarat Historical Society
---
Served as a probationary Sub-Lieutenant from 27 October 1890 until 8 May 1893.
Victorian Government Gazette, 31 October 1890 and 12 May 1893.
---
Ballarat Boy's Naval Brigade.
"A private Boy's Naval Brigade had been founded at Ballarat in 1903 by Lieutenant John Adeney, ex the Victorian Colonial Navy, British Merchant Navy mariner, and Harbour Master, his father, the first vicar of St Peters Church of England at Ballarat."
---
In 1908 the Ballarat Boys Naval Brigade requested rail passes so they could travel to Melbourne to see the Great White Fleet. This request was rejected by the Victorian government. When the premier, Thomas Bent, suggested that the boys, whose youngest member was aged nine, should walk to Melbourne, they did just that. Public opinion ensured that rail passes were provided for the return trip.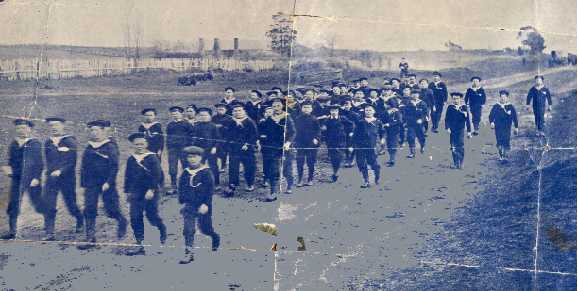 Boys of the Ballarat Naval Brigade marching to Melbourne.
Photo - Collection: Ballarat Historical Society
---
born 30 Oct 1862, Geelong Vic
died 1 Jan 1946, Hampton Vic
occupation Sea Captain and Farmer
---
http://wc.rootsweb.ancestry.com/cgi-bin/igm.cgi?op=GET&db=mackfamily&id=I118#s1