James Crosbie Jamieson
Leading Stoker
A Martini-Henry rifle, the type used by the Naval Brigades, is on display in the National Maritime Museum's Naval Gallery. It features an elaborately carved dragon motif on its stock, suggestive of its Boxer links. Out of view are four Chinese characters and the text "J. C. Jamieson."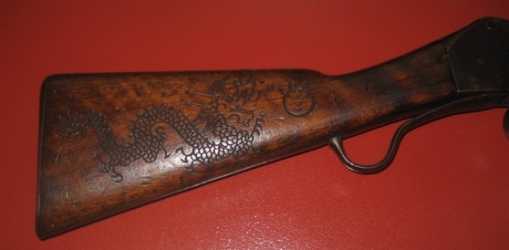 Martini-Henry Rifle, ANMM Registration Number 00033857
text and photo from http://anmm.wordpress.com/category/curiouser-and-curiouser/
---
| | | | | | | | |
| --- | --- | --- | --- | --- | --- | --- | --- |
| Religion | Height | Chest | Build | Hair | Eyes | Tatoo | Comment |
| Prot | 5' 6" | 39" | Prop | dark brown | Hazel | both arms, chest | |
From Volunteer Listing kept by CPO Goding & held by grandson Lawrence Dilks, Williamstown. Compared with China Contingent List. Prepared by Ada Ackerly, Directory Williamstown Museum, c 1987.
---
Profile in The Australian Illustrated Enclclopaedia of The Boxer Uprising 1899-1901, Justin Corfield, Slouch Hat Publications, McCrae Australia, 2001.
---
More details on this person can be found in the Victorian Navy Certificates of Service This is a very large pdf file of 109 mb and takes 13 minutes to download with a 1.5 mbps internet connection.