James Frost
Gunner
Crew member of HMCS Victoria 1860-61. See Victoria & Australia's First War, Ian MacFarlane & Neil Smith, Mostly Unsung Military History, Brighton 2005.
---
1858 - Drill Instructor, 25 yrs, 5ft 6ins, Blue eyes, Brown hair, Fair complexion, C of E, single, English, appointed 1/11/1858
Cumulative Index on members of Water Police Williamstown, Victorian Naval Forces etc with sources. Collected by Ada Ackerly, Williamstown Museum, commencing 1986.
---
On Sweers Island in the Gulf of Capentaria is the grave of Gunner James Frost, of HMCS Victoria, who died after an accidental shooting in 1861. The Victoria was searching for Burke and Wills.
IN MEMORY OF
Mr. James Frost. V.N.
GUNNER
of
H.M.C.S. VICTORIA
Who was killed near this
Spot by the accidental dis-
charge of a gun on the 31st
day of December 1861.
AGE 28 yr
For ten years a faithful Ser-
vant of his Queen and Cou-
ntry. RESURCAM


---
Photo courtesy of Lyn Battle
www.sweers.com.au/history1.htm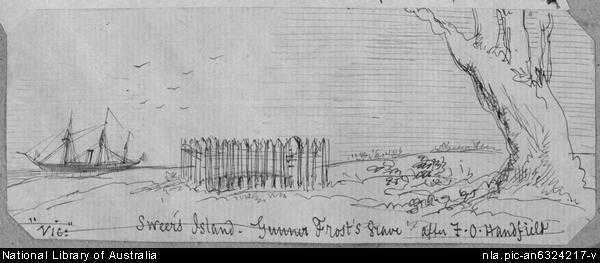 Sweers Island - Gunner Frost's Grave, after F.O. Handfield by George Gordon McCrae.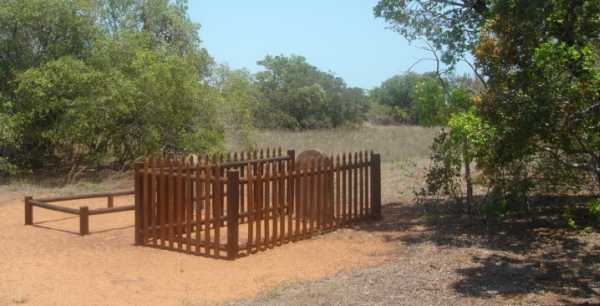 Gunner Frost's grave with fence rebuilt of Koppers logs by Tex Battle.
---
1861
Dec. 26 - "Had this night again heavy thunderstorms and rain. I went out early and had a pretty successful trip. As I came back, a new accident took place. Mr. Frost cleaned our two guns, both of which were well loaded. One of the barrels went off, and the full charge went into his right side, and, if as Doctor Patterson believes, that shot has penetrated into the intestines, he could not be saved ... Captain Norman begged of me to undertake the nursing of Frost."
Dec. 31 - 'This morning early about 5 o'clock poor Frost died, at the age of twenty eight years. A young man loved of the Captain and all the sailors. We buried him the same evening some distance from the camp, after the rites of the Church of England."
www.dropbears.com/s/sweers/sweers2.htm
---
Among other " footprints" left by Captain Norman is a grave of James Frost. A stone at the head bears the following inscription :
"JAMES FROST."
The grave is surrounded by a light railing erected by the Victoria crew. It is easy to see that the deceased must have been well liked by his comrades by the amount of care and labor there has been bestowed on his bed.
The Brisbane Courier, 4 September 1867
---
From Crew List of HMCS Victoria as at January 1857.
Listed as a member of the crew of HMCS Victoria in 1858.
Article in Journal of Police History, vol. 3 no. 1, March - May 1995 written by Ian MacFarlane.