Edward Hayes
Chief Gunner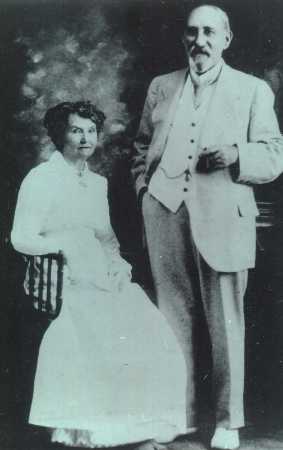 Edward and his wife Emily
parents of Edward George and Harry James
photo c

ourtesy of Robert and June Phillips
Chief Gunner Hayes came to Williamstown in the gunboat Albert and occupied the position of Gunnery Instructor to the Victorian Naval Brigade, Victorian Navy, and Commonwealth Naval Forces. He died at the Beach Hotel in 1910.
excerpt from Deeds not Words, Wilson P. Evans,The Hawthorn Press, Melbourne 1971
---
OBITUARY
EX-CHIEF GUNNER HAYES
Ex-CHIEF GUNNER HAYES died at his
residence, the Beach Hotel, Twyford
street, South Williamstown, last
Friday afternoon and his remains were
interred in the local necropolis last
Sunday. He was 61 years of age and
leaves a widow and six in family.
The funeral was a

naval

one, minus
the firing party. The deceased retired
from the Australian Navy last year.
He was born in 1849 and came out to
Victoria in the gunboat Albert in 1885.
During his connection with the Victor
ian, and afterwards the Commonwealth
Naval

Forces, he occupied the position
for some years of instructor to the
Victorian

Naval

Brigade

and likewise
was a chief gunner in the Perma
nents." Mr Hayes recently suffered a
complete health breakdown.
Williamstown Chronicle, 24 December 1910
---
Born 17.03.1849 at Ballyhigran, Limerick, Ireland.
Died 16.12.1910 Beach Hotel, Twyford Street, Williamstown, Victoria.
Promoted to rank of Chief Gunner on HMVS "Cerberus", Port Melbourne 9th. Feb. 1899
---
Joined Victorian Navy 1883.

Warrant Officer 10 April 1885.

Chief Warrant Officer 10 April 1899.

Served as Gunnery Instructor to the Victorian Naval Brigade & later to the Commonwealth Naval Forces.

Died Williamstown Vic. 1910.
For details of ships served on and offer and acceptance of promotion
see Edward Hayes documents courtesy of Robert & June Phillips
---
---
Name: 	Edward George HAYES
Rank: 	Able Seaman and Corporal
Regimental Number: 	81, 648 and 402
Date of Birth: 	4th March 1879
Place of Birth: 	Sheerness, United Kingdom
Occupation: 	Clerk and later Senior Telephone Linesman
Marital Status: 	Single
Address:
Parents: Edward and Emily HAYES, 
Victorian Navy Drill Room, Williamstown, Vic 
120 Stoke Street, 
Port Melbourne, Victoria 
Later wife: Mrs Hannah Boardman HAYES, 
48 Bright Street, 
South Melbourne, Victoria 
Religion:	Church of England 
Service Outline:
Enlisted in the Victorian Navy in Williamstown and Full Time Duty early July 1900.
Embarked Melbourne 30th July 1900 with Victorian Naval Contingent for China per Transport 'Salamis'. 
Re-embarked Sydney 8th July 1900.
Arrived Taku 9th September 1900 and to Tientsin the next week.
Operations to Peitang then Pao-Ting-Fu from 20th September 1900.
Garrison duty Tientsin from 6th November 1900.
Relieved by British troops 20th March 1901.
Embarked Taku per Transport 'Chingtu'2nd April 1901.
To Quarantine Sydney 25A April 1901.
Disembarked 3rd May 1901 and train to Melbourne.
Enlisted for service in South Australia in Melbourne 13th January 1902 and to camp Langwarrin.
Embarked Melbourne 12th February 1902 per Transport 'St Andrew' with 2nd Victorian Battalion Australian Commonwealth Horse. Disembarked Durban 10th March 1902 and train to Newcastle. 
To Klerksdorp 6th April 1902.
Operations against the Boers from 23rd April 1902 from Paardeplatts to Boschepoort.
>From 7th May 1902 a drive to the Hartz River and the border of Bechuanaland and the Transvaal.
To the Kimberley Mafeking Railway Line 11th May 1902. To Klerksdorp 21st May 1902. Peace declared 31st May 1902.
To Elands Fontein 25th June 1902. Train to Durban 5th July 1902.
Embarked Durban per Transport 'Norfolk' 8th July 1902. Disembarked Melbourne 2nd August 1902 and discharged same day. Enlisted in the Australian Imperial Force in Melbourne 28th April 1915 and to camp Broadmeadows.
Embarked Melbourne for the Middle East with B Company, 24th Infantry Battalion, 2nd Division 8th May 1915 per Transport 'Euripides'. 
Disembarked Alexandria and to camp Heliopolis, Egypt 3rd June 1915. Corporal 23rd June 1915.
Operations Gallipoli against the Turks from 4th September 1915 near Lone Pine.
To 6th Field Ambulance Gallipoli with diarrhoea 22nd September 1915. To Malta per Hospital Ship 'Grampion' 28th September 1915. To United Kingdom 14th October 1915 and to Military Hospital Bristol. To duty 12th June 1916.
To Hospital Epsom 20th July 1916 with dyspepsia and dysentery. 
To camp Perham Downs 25th November 1916. To camp Wareham 29th November 1916 and further sickness noted. Absent Without Leave 20th December 1916. 
To camp Weymouth 20th May 1917.
Embarked United Kingdom per Transport 'Ayrshire' 23rd May 1917. 
Disembarked Melbourne 17* July 1917 and to leave. 
To 11th Australian General Hospital, Caulfield 26th July to 11th September 1917.
Discharged Melbourne Medically Unfit 15th October 1917. 
Remarks:
Awarded 1914-15 Star, British War Medal and Victory Medal 1914-1919.
Awarded China Medal 1900 with no clasp vide Medal Roll ADM 171/55.
Awarded Queen's South Africa Medal with clasps Transvaal and South
Australia 1902 vide Medal Roll WOl00/293 page 48.
Described as 67 inches tall, chest 37 inches, brown eyes, brown hair and dark
complexion.
Noted children Henry James, Olive Orchard, Charles Washington and Edward George.
Died 19th February 1945. 
Buried Preston, Victoria.
Searched in National Archives of Australia Series B1115, B5520, 5522, 5523, 5524, 5531, 5532, 5534, 5494, 5495, 5519, 5492 and 5493 plus Naval Brigade records circa World War One and Police Gazettes. 
Noted the subject's father George HAYES on the 'Nelson' circa 1884 and James HAYES born 1890 with the Victorian Navy.

Research by Neil Smith courtesy of Frank Noonan.