Thomas Bennet
Engineer
Born 31st January 1826 in Edinburgh Midlothian Scotland.
The diaries of Thomas Bennet mention that he joined HMVS Cerberus on may 9th 1877 and served as an Engineer and left on May 5 1878. Thomas later became an Engineer Commander in the Queensland Maritime Defence Force and, according to family history, Captain of the colonial warship HMQS Guyandah, as well as serving on the armed tugboat "Otter".
Thomas tried to enlist during WWI but as he was aged 88 his offer was not accepted.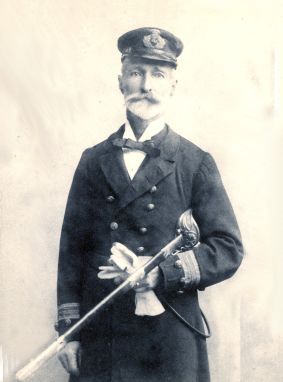 Thomas Bennet in the uniform of a Queensland Naval Fores Engineer Commander
Details provided by Ian Carter.

Essay on Thomas Bennet & family
---
Appointed First Assistand Engineer on HMVS Cerberus dated 19 February 1877
Victorian Government Gazette, 2 March 1877
---
Resigned 14 May 1878.
Victorian Government Gazette, 23 May 1878