Robert Samuel Groves
Gunner
Attached to the Naval Torpedo Corps
---
Arrived in Victoria on board the SS Durham in October 1877.
The Australasian, 13 October, 1877
---
Considerable alarm was created in Williamstown on Friday evening by a loud explosion at the residence of Captain Mandeville, chief naval officer. It subsequently transpired that a somewhat serious accident had occurred, by which both Captain Mandeville and Gunner Groves, R.N., were rather badly injured. It seems they were trying some experiments with a small torpedo charged with dynamite, when by some mischance the two poles of a galvanic battery attached were brought into contact un expectedly. The torpedo at once exploded, the fragments flying in all directions. Both Groves and the captain were struck in several places, some of the smaller pieces of metal penetrating their legs. Medical assistance was obtained and the fragments were extracted. Groves, who is the more severely injured of the two, was afterwards removed to the hulk Deborah in the Bay, where he was attended by the medical officers of the Nelson and Cerberus. It is hoped that the consequences will not be very serious in either case, but it will probably be several days before the sufferers are sufficiently well to pursue their ordinary avocations.
Bendigo Advertiser, 22 December 1879
---
PARTICULARS OF THE DECEASED.
Mr Robert Samuel Groves was a native of Portsmouth, England, and was about 44 years of age. His father was drowned at sea when Robert was quite a boy, and the lad joined the English navy, working his way up the ladder of promotion till he became a gunner in July, 1861. He served throughout the Crimean war, also distinguished himself in the China campaign, and wore the two Crimean medals and the Fatshan medal. On one occasion during a severe boat engagement, he was described by his commanding officer as "a bright example to all British sailors." He was looked upon as an excellent officer in all respects, a through sailor, an experienced gunner, and a master of all kinds of infantry drill. About five years ago he was appointed to H.M.S. Excellent, the training ship for torpedo drill in Portsmouth Harbour. His duties there were a very responsible kind, as he had to instruct and examine all the young officers who were completing their course of torpedo lectures. Mr. Groves was so successful, and so won the esteem of his superiors, that when the Victorian Government applied for the services of a naval officer for torpedo purposes here, Mr Groves was at once chosen as the fittest man for the post, which was looked on as a promotion. He arrived in this colony by the ship Durham in June 1876, under engagement to the Victorian Government for duty for five years, and was looking eagerly forward to rejoining his family in 14 months from now. He was placed in charge of the torpedo hulks at the mouth of the Yarra, which position he held at the time of his death. Mr Groves leaves an aged mother, a wife and five young children to mourn his loss. Groves was with Captain Mandeville about 12 months ago, when an accident occurred to the latter through practising with explosives. Groves was not then injured. Groves's watch a presentation one from an officer of the Royal Navy stopped at 11 minutes past 5 p.m. It is a good deal dinted by the concussion. Mr. Oliver Richards, a brother officer and intimate friend, has taken charge of Mr. Groves's affairs.
The Argus, 7 March 1881
---
MR MURRAY'S NARRATIVE
Poor Groves was always terribly careless, but he took my suggestion.
The Argus, 7 March 1881
---
TO THE EDITOR OF THE ARGUS
Sir, In your account of the torpedo calamity, which you published on Monday, there occur the following words in the statement made by Lieutenant Murray : "Poor Groves was terrible careless," etc. Now, I wish to state that I was a brother officer and old shipmate of the late Mr. Groves, and had known him intimately for the last 20 years, having passed through the same curriculum with him at Portsmouth on board the Excellent. You will imagine my surprise at Mr. Murray's statement when I tell you that so far from Mr. Groves being careless, he was held up as a model of exactness and precision, in every respect, on board the Excellent; and from my subsequent acquaintance and intercourse with him I have never had reason to doubt of his character in that respect. I think, therefore, that injustice to the widow and orphans, as well as for the satisfaction of old messmates like myself, Lieutenant Murray should either substantiate or retract what I consider a most terrible slur upon the character of a naval officer, I am etc.
JAMES THOMAS POUND
Late Gunner in the Royal Navy
Carlton, March 8.
The Argus, 11 March 1881
---
In reply to the letter of Mr. Pound, late a gunner in the Royal navy, which we published yesterday, Mr. K. L. Murray writes to say that he did not attribute habitual carelessness to the late Gunner Groves, as reported in The Argus of Monday. Mr. Murray says that our reporter must have misunderstood him.
The Argus, 12 March 1881
---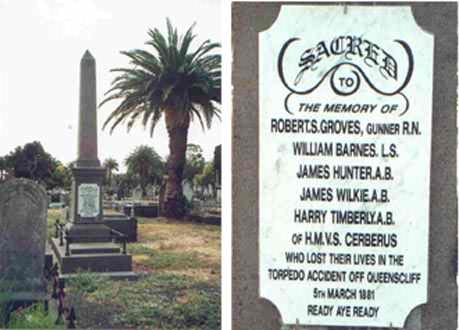 Memorial to those who died in the 1881 Torpedo Explosion off Queenscliff.
photo by David Joy 2001.
---
A benefit concert given on Saturday night in aid of the victims of the late torpedo accident was well attended. The South Australian Advertiser, 5 April 1881
---
Robert Groves' widow & are children mentioned in the Supplement to the Victorian Government Gazette, 30 December 1881 as receiving £350 and £250 compensation for Gunner Groves who was killed by the Torpedo Accident off Queenscliff.