John Henry Cutler
aka John Henry William Walford-Cutler
Dispenser
CASE OF CUTLER THE DISPENSER.
A most pitiable case occurred quite recently. Cutler, the late sick berth attendant or dispenser, was taken seriously ill, with pithisis. Several officers and men had noticed him on his return from sick leave, and spoke to him advising him to lay up again, as he was more dead than alive. His reply was that he could not afford to go on half pay. A week afterwards he was dead, died of hemorrage, leaving a wife and two children destitute. It is generally considered in the force that the present Government is responsible for that man's death, and the destitute condition of his family. An appeal was made all round for funds to pay for a third class steerage passage home to England for this family. Government refused to subscribe, the men and officers in the force raised about £4 out of their scanty pay, and the affair is still in abeyance pending help from outside.
Williamstown Chronicle, 17 August 1895
---
JHW (Walford-) Cutler was born in England in 1860. John began training as a doctor, which he did not complete and in 1887 he married Annie Florence Baker in Warwickshire, England. At some stage soon after that they migrated to Australia. Because of his partial training in medicine John was a 'dispenser' aboard the Cerberus.

Also in the photo are the older two of their three children, Amy (b. 1887), my grandmother, and Lawrence (b. 1889). I am not sure of the date of this picture but there was another son, John (b. 1891). Judging from the ages of the children I would guess this picture was taken in either late 1890 or early 1891.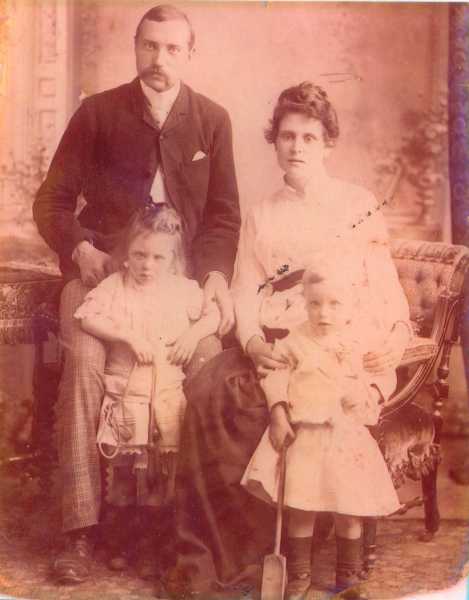 John Cutler & Family, circa 1890
Detail and photo supplied by Gary Scott. (great grand-son)
---
Died: 10-7-1895
source:
Victorian Navy Monument, Williamstown Cemetery
Erected by the Officers, Petty Officers and Men of the Permanent Naval Force of Victoria
In Memory of their Deceased Comrades

Large Monument surmounted by Large Anchor
courtesy of Helen Harris, OAM
---
A NAVAL FUNERAL.
The funeral of the late John William Cutler, who at the time of his death was a dispenser attached to the Victorian naval forces, was carried out with naval honours yesterday at Williamstown. The band of the Naval Brigade headed the cortege, which was composed of a great number of officers and men of the navy. The deceased suffered from consumption, and succumbed to an attack of hemorrhage.
The Argus, 13 July 1895
---
Parents - John Henry Cutler & Harriet
Victorian Navy Muster courtesy of Geoffrey Bensley.
---
More details on this person can be found in the Victorian Navy Certificates of Service This is a very large pdf file of 109 mb and takes 13 minutes to download with a 1.5 mbps internet connection.