Francis Esmore
Able Seaman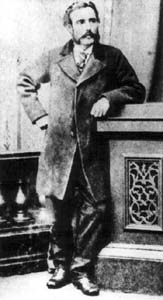 Francis photographed before 1873.
FRANCIS ESMORE arrived July 1872 as a seaman aboard the ETTRICKDALE.
The family verbal history was that he had experience which was relevant to being employed as a member of the HMCS Cerberus ship's company.
He was put on the Reserve list when the HMCS Cerberus ship's company was reduced from 79 men in 1872 to 39 men in 1875. Most of the men from the reduction in the full time complement went to the Harbour Trust Auxiliary. The auxiliary was part of the Naval Brigade and included an artillery unit. Many of the men continued to serve part time on the HMCS Cerberus.
Records for the Navy Reserve are incomplete however he is shown as enrolling 6 Jan 1875 as a "working instructor" and was noted as being a "trained man". He resigned after two years, re-enrolling 22 July 1879 with an AB designation. There is a gap in the records for the period.
He married Grace Fridgins 29 September 1873. On the wedding certificate he gave his occupation as "Marines".
CPO Richard Vaughan married Grace Fridgins's younger sister, Elizabeth Fridgins.
A son married in England (7 May 1918) gave his father's occupation as "Gunnery Instructor Australian Navy". With the federation of the colonies the Victorian Navy became part of the Australian Navy in 1911.
FRANCIS ESMORE was born 28 May 1841 in Maine America and died 13 August 1882 at 44 Alexander St South Yarra. He had a lung complaint for 23 months.
About 1963/1964 I saw in a ship-chandler shop a photo of a hard helmet diver with a support team on a wharf in Williamstown. The caption was "Unknown American diver …" performing Harbour Trust work. Later when I saw the photo of FRANCIS ESMORE I recognised it was him in the photo (distinctive facial hair). The photo above pre-dates (c1873) his wedding. His "to be wife" had a photo taken at the same time.
Grave reference - St. Kilda General Cemetery, Presbyterian C, Grave 287