Charles (Charley) Robert Burnham
1872 - 1957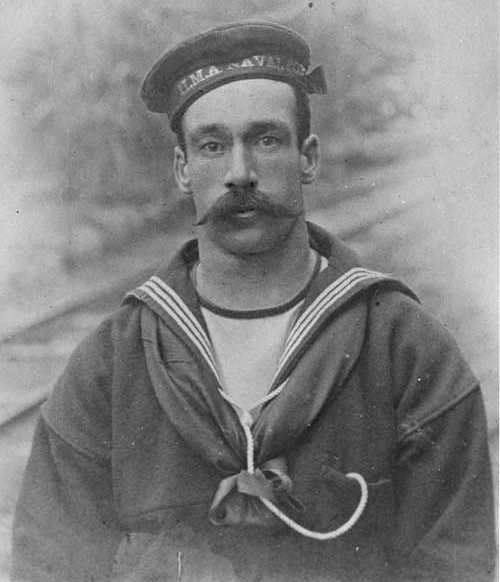 "It could have been the Victorian Navy (Charlie pictured in his Navy uniform). He was on the Cerberus. Anyway, then he got out of the navy and they moved to Sorrento and opened up a fruit shop." Vin Burnham.
---
Born 28 June 1872 at Emerald Hill, Victoria.
After completing school it is likely that Charley worked for a period of time with his older brother, George William, learning the trade of Blacksmithing before joining the Victorian Naval Services where he served on the HMVS Cerberus, the first ironclad monitor warship in Victoria.
After leaving the Navy Charley moved to Sorrento in the 1890s.
Charleys' father George purchased several blocks of land in Sorrento and Blairgowrie, the neighboring hamlet about ten kilometers south west of Rosebud, around 1893. Charley built a small hut on one of his fathers' blocks in what is now Blairgowrie and worked as a blacksmith. He planted fruit trees on the block and when his mother moved to Sorrento around 1904 they opened a fruit and vegetable shop in the town. With the boating skills and knowledge of Port Phillip that he had gained in the Navy Charley took up fishing in the sheltered waters of the Bay, where he was later joined by his younger brother Walter James.
Charley competed regularly at Sports meets held in Sorrento as reported in the Mornington Standard. In rifle shooting for Point Nepean versus Red Hill in May 1901 he finished second with a score of 61 to his brother-in-law, P. Rayson who scored 63. This was the first time that the Point Nepean Club had competed. Rayson scored 34 out of a possible 35 at 400 yards. In the two-mile bicycle race at the Annual Easter Sports in March 1902 Charley finished second and in the Sorrento Walking Match of 1903 he finished fifth.
He married Lydia Schuhkraft on the 14th of Feb 1906 at Doncaster.
They had four children together in Sorrento, Doll, Wal, Iris and Stan, before moving to Rosebud around 1913 and having two more sons, Roy and Vin.
He initially managed Hindhope which was a farm running from just beyond Hope Street to the Highway and from First Avenue to Boneo Road.
After the land was subdivided Charley purchased Lot 39 McCombe Street with frontages of 53 feet 5 inches to Boneo Road and 220 feet 10 inches to the north side of McCombe Street on which he built a basic timber shack. His brother Walter built a house on the foreshore opposite the end of Boneo Road.
All four boys would eventually take up fishing in the Bay. (Three of Roys' sons would also take up fishing based in Rosebud).
Lydia died on the 9th of September 1935. Charley died in Rosebud on the 9th of June 1951, both were buried in the Dromana Cemetery.
Details provided by Neil Burnham.