James Allen
Ships Corporal & Bandmaster
OBITUARY NAVAL VETERAN.
Another of the old Victorian Naval veterans, in the person of Mr. James Allen, passed to the great beyond on Thursday morning last, at the residence of his son, Blackshaws-road, Newport, after an illness of only a few days duration. Born at Prescot, near Lancaster, England, deceased was 84 years of age. At the age of 20 years, he enlisted in the 2nd Battalion, 14th Regiment of infantry at Liverpool, and was sent to New Zealand during the Maori War, for which he received the New Zealand Medal on completion of ten years service. He enlisted in the Royal Victorian Navy, and served on board the old Nelson and Cerberus as ships-corporpoal and bandmaster--during his period as bandmaster the band won competitions at Geelong and Ballarat. He had resided locally for fifty years.
The funeral, which was largely attended, took place last Friday afternoon for interment in the local cemetery. The casket being covered by a Union Jack. Old Victorian Naval veterans noticed among the pall-bearers were Messrs. T. Seabridge, A. Anderson and W. M. Freeman, The funeral arrangements were carried out by Mr. E. W. Jackson, and the Rev. Chas. Brewer conducted the burial service.
Williamstown Chronicle, 8 September 1923
---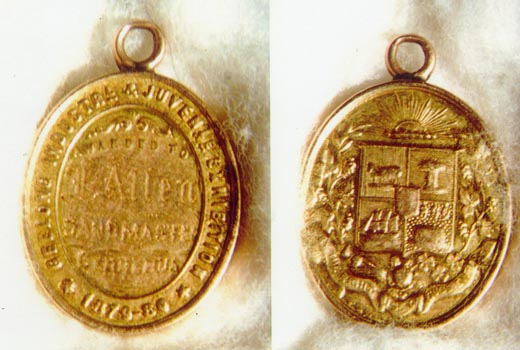 Gold Medal awarded to J. Allen, Bandmaster Cerberus.
"Geelong Indusrtrial & Juvenile Exhibition", 1879-80
Actual medal size: 27mm x 22mm
Prepared by Shirley & David Joy.
Image courtesy of the Armstrong Collection, 15th July 2002.
---
Appears in the Enrolment Sheet of the Victorian Naval Forces 1884.