William Marlborough Davis
P.O. Stoker
| | | | | | | | |
| --- | --- | --- | --- | --- | --- | --- | --- |
| Religion | Height | Chest | Build | Hair | Eyes | Tatoo | Comment |
| Prot | 5' 5½" | 40" | Prop | Grey | Grey | | |
From Volunteer Listing kept by CPO Goding & held by grandson Lawrence Dilks, Williamstown. Compared with China Contingent List. Prepared by Ada Ackerly, Directory Williamstown Museum, c 1987.
---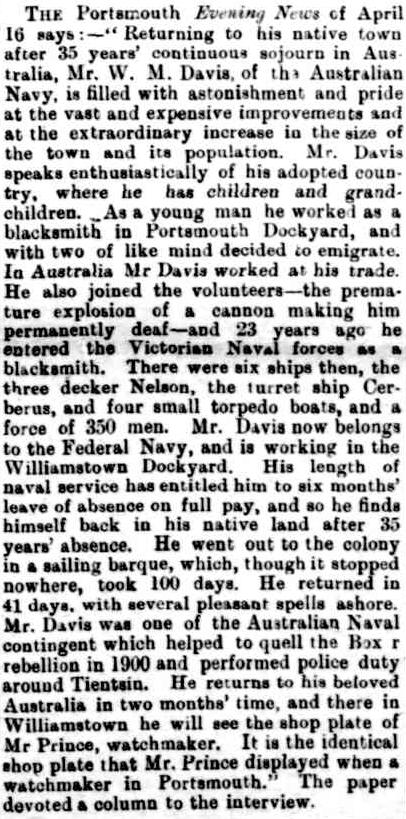 Williamstown Chronicle, 25 June 1910



---
Mr. W. M. DAVIS.
After an illness of a few weeks' duration, Mr. William Marlborough Davis, a very old and highly esteemed resident, died on Sunday evening last at his residence, 69 Railway-crescent, at the age of 71 years. Deceased, who was a native of Portsmouth, England, had resided locally for about 50 years. A veteran of the old Victorian Navy, he was one of the contingent despatched to China to assist in quelling the Boxer rising. As a youth he witnessed the launching of the old cruiser, "Cerberus," on which ship he served for some years in Hobson's Bay. The funeral took place on Tuesday afternoon, leaving his residence for interment in the local cemetery, where a large number of friends assembled. Many of the old veterans of the China contingent preceded the hearse. The casket was covered with the Union Jack. The pall-bearers were Messrs. Lieut. Verey, A. Barden, J. Gammon, M. McKenzie, J. Jamieson, J. White, R. Willis, G. Aldridge, C. Morgan and J. W. Sylvester, The Rev. J. Snell (Methodist) conducted the burial service, and Ernest W. Jackson carried out the funeral arrangements.
Williamstown Chronicle, 18 September 1926
---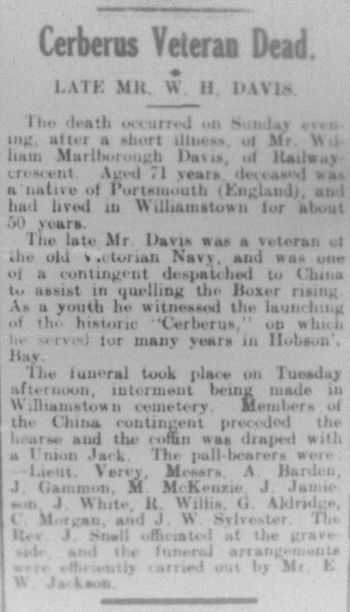 Williamstown Advertiser, 18 September 1926
---
Received a Long Sercice & Good Conduct Medal in 1902 - Long Service & Good Conduct Medals to the Permanent Members of the Royal Aystralian Navy 1902 to 1956, A.O. Chaffey, West Launceston, Tasmania.