Andrew Currer was the youngest son of Adam Currer and Bridget McCarthy, born 29 April 1873 in Richmond Victoria.
Andrew's father, Adam Currer, the eldest son of Henry Currer (builder) and Euphemia (Hislop) Currer of Edinburgh Scotland arrived in Australia on the Malabar in 1853 shortly after his two younger brothers after having spent 12 years in the Royal Scots Guards.
Adam and his brother headed to the Victorian Goldfields, where they opened a mixed business in Sunbury and where Adam met and married Bridget McCarthy from County Limerick in St Augustines Roman Catholic church in Keilor in 1859.
Andrew joined the navy on Cerberus and on 30 July 1900, aged 27 and after marrying his sweetheart Catherine Falconbridge in Rathdowne Street Carlton, the same day sailed to the Boxer Uprising in China as a crewmember of the SS Salamis, returning safely in 1901 on the Chingtu, to a newly federated Australia, with its own navy. This would make Andrew and his fellow crew mates the first returned servicemen in the new Federation of Australia.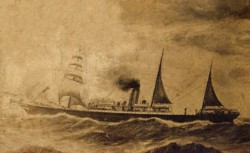 SS Salamis
Upon Andrew's return he was for some time the Secretary to the newly returned Boxer Rebellion contingent.
Andrew and Catherine settled down in Richmond to raise a family and Andrew joined the Victorian Civil Service where he became the head of the photographic branch of the Department of Lands.
Catherine Falconbridge had migrated with her 6 siblings and parents from County Donegal in 1880 where her father Alexander Falconbridge was said to have been a sea captain.
Interestingly the possibility is being researched that Alexander Falconbridge was a descendent of Alexander Falconbridge 1760 (of Bristol) who had been a surgeon on board several slaving voyages to Sierra Leone and who became an abolitionist, was due to become governor of Free Town Sierra Leone and in 1780 prior to his untimely death, wrote a book about what he had seen which was presented before the English parliament as propaganda for the abolitionist movement which was rapidly growing in Britain.
Catherine gave birth to her first child, Cyril, on 9 March 1903. Cyril's birth was followed by Adam Alexander, Charles, Euphemia, and baby Alma May who sadly died aged 3 years. The family remained in Richmond for many years.
Cyril was to become a well known and respected Detective in the Victoria Police Force and was involved in a number of high profile murder cases, including the trial of Jean Lee the last woman hanged in Victoria, and the 3 trials of John Bryan Kerr.
Andrew eventually purchased 3 blocks of land in McDonald Street in the open beach side suburb of Mordialloc on which he built 3 homes. Andrew and Catherine moved into one house, his spinster sister Euphemia into another and his elder unmarried brother Adam into the third house.
Andrew and Catherine remained in McDonald Street until Catherine's death in 1934 followed by the death of Andrew in 1942. At this time Andrew's daughter Euphemia and her family cared for the elderly Uncle Adam and Aunt Euph in the house until their deaths in 1942 and 1957 respectively.
The house today is still occupied by descendents of the Currer family, two grandsons of Andrew and Catherine.
Andrew and Catherine are buried in the New Cheltenham Cemetery with their second son Adam Alexander (who died unmarried in 1942, the same year as his father Andrew and Uncle Adam).
From Volunteer Listing kept by CPO Goding & held by grandson Lawrence Dilks, Williamstown. Compared with China Contingent List. Prepared by Ada Ackerly, Directory Williamstown Museum, c 1987.