William (Bill) Morris Freeman
Ship's Cook, Stoker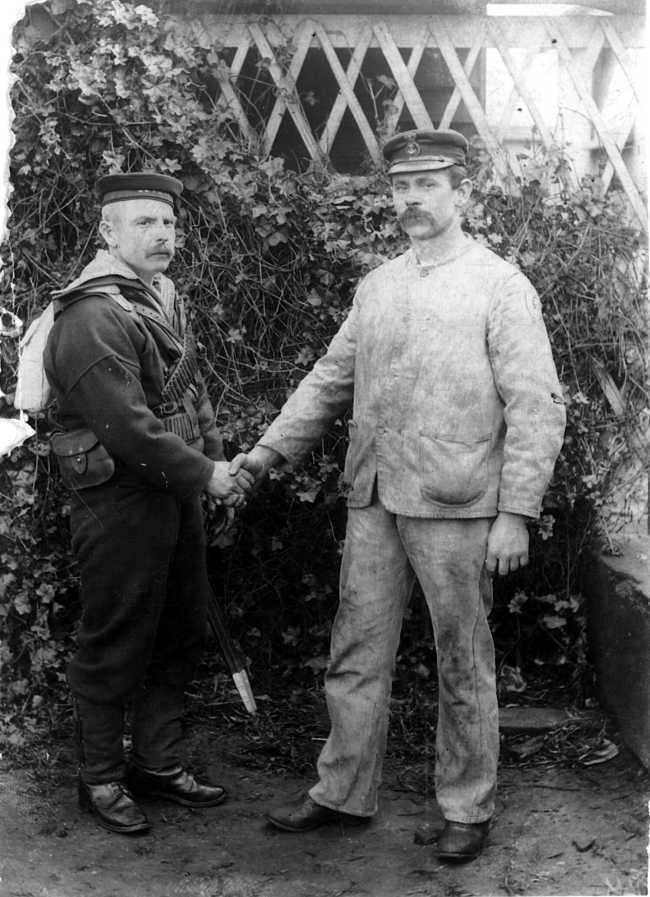 Bill Freeman (left) with John Miles
Photo provided by Stephen Miles
---
Listed in The Argus newspaper on 8 September 1884 as a Ship's Cook and having received the Victoria Volunteer Long & Efficient Service Medal on 6 September 1884.
---
David Matthews points out that William Freeman received the China campaign medal in addition to the Victoria Volunteer Long & Efficient Service Medal and the Edward VII naval long service medal. William also received the British War Medal while serving in the RAN during the Great War.
Observations on the Victoria Volunteer Long & Efficient Service Medal, L.D. Matthews, Journal of the Numismatic Association of Australia, vol 16 2005.
---
| | | | | | | | |
| --- | --- | --- | --- | --- | --- | --- | --- |
| Religion | Height | Chest | Build | Hair | Eyes | Tatoo | Comment |
| Prot | 4' 11" | 37" | Prop | Grey | Hazel | both arms | |
From Volunteer Listing kept by CPO Goding & held by grandson Lawrence Dilks, Williamstown. Compared with China Contingent List. Prepared by Ada Ackerly, Directory Williamstown Museum, c 1987.
---
NAVAL VETERAN'S TREASURES.
In 1901 the Victorian Naval Contingent were in Tienitsin (China), in connection with the Boxer rising. Most of the contingent were residents of Williamstown, and one, Mr. Wm. Freeman, of Cox's Gardens, who was a member of the contingent, has shown us a copy of a concert programme, "The Wreck of the Hesperus," given at the Gordon Hall, Tientsin, on March 22, 1901, when, by permission of Captain Tickell and officers, the band of the Victorian Naval Contingent assisted. Mr. W. Underwood (the bandmaster), who is still a resident of Williamstown, assisted with the clarionet. Mr. Freeman also has a copy of a poem. Jack's Yarn written in 1879, by one of the crew of H.M.V.S. Nelson, when Mr. Jas. Service, then Premier, proposed, to reduce the naval men's pay. One verse says:
"But what will Mr. Service say
If for, our clothes he's asked to pay?
We'll 'sell them to him cheap and fair;
They''ll do for his Chinese crew to wear."
The suggestion was that the navy could be manned by Chinese at 5/- a week.
Williamstown Chronicle, 11 March 1933
---
died: 16-9-1936
source:
Victorian Navy Monument, Williamstown Cemetery
Erected by the Officers, Petty Officers and Men of the Permanent Naval Force of Victoria
In Memory of their Deceased Comrades
Large Monument surmounted by Large Anchor
courtesy of Helen Harris, OAM
---
Profile in The Australian Illustrated Enclclopaedia of The Boxer Uprising 1899-1901, Justin Corfield, Slouch Hat Publications, McCrae Australia, 2001.
---
Mr. W. M. FREEMAN A well known identity of this city; Mr William Morris Freeman died on Wednesday evening, 23rd ult., at his residence, 6 Cox's Gardens; after an illness of a few days duration. Born at Port Melbourne 77 years ago, he saw service with the old Victorian Navy on H.M.V.S. Nelson, and was one of the China contingent sent to quell the Boxier rising. He later was transferred to the R.A.N., retiring as chief petty officer. He was well known as a Freemason locally, being a member of Robbie Burns Lodge, Williamstown Mark Lodge and Collingwood Chapter. He leaves a widow and three daughters to mourn their loss. The funeral, very largely attended, took place on Friday after noon, leaving his residence for irterment in the local cemetery. A large number of beautiful fioral tributes were received, including wreaths from the Masonic lodges for which for many years he was associated. Ernest W. Jackson was the lundertaker, and the Rev. W. H. Holloway conducted a house service and officiated at the cemetery. Wor. Bro. J. H. Whitwam conducted the Masonic burial service.
Williamstown Chronicle, 3 October 1936