Guy Reginald A. Gaunt
Lieutenant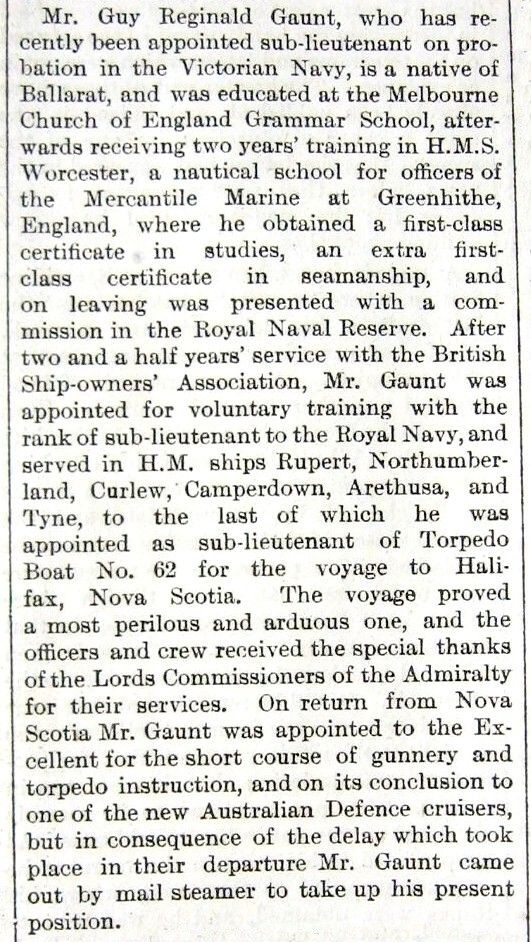 The Argus, 17 April 1891
---
He was one of the most popular officers that Victoria ever had, as well as being a very efficient one. He could always get the best out of the men. If on shore to a theatre the night boat crew never went to their hammocks after bringing him off to the ship without being taken to his cabin for a stiff whisky. About this time the Admiralty found itself short of lieutenants and called for applications from the merchant service for 100 lieutenants. Lieutenant Gaunt applied, was accepted, and appointed to the H.M.S. Royalist on the Australian station. The conditions were that these officers were to serve ten years as lieutenants with no promotion and retire on a pension of £500 per annum. They were called "The Hungry Hundred." Shortly after Lieutenant Gaunt joined the Royalist trouble broke out in the Solomon Group. The Royalist was dispatched to deal with the situation. Lieutenant Gaunt was given charge of the operations and so successfully did he quell the rising he was mentioned in dispatches to the Admiralty with the result he was placed on the active list, and became Lieutenant Gaunt, R.N., with every prospect of promotion in front of him. He became Admiral Sir Guy Gaunt, K.C.M.G., C.B. Besides Sir Guy Gaunt the Victorian Navy had two other officers who attained flag rank - Rear-Admirals Tickell and Feakes.
By Lieut. Prideaux, The West Australian, 31 July 1937
---
The Capt. Gaunt of whom we speak was a slim, curly headed young lieutenant In our Victorian Navy at the time when Capt. 'Tea Party White' commanded the Victorian Naval Forces; the Nelson tea parties were a feature in society entertainments in those days. Capt. Gaunt was exceedingly popular In those past days, He has been lucky— Indeed, luck seems to have been the birth-right of all the Gaunts. In the days of his youth young Guy ran away to sea, and after a career In the merchant service, was privileged to write R.N.R. after his name, and was appointed to the Victorian Navy, from which he drafted into the Royal Navy, and is now, whilst still a young man, Commander 'of the Challenger. One of his comrades on board the Nelson was Lieutenant De Courcy Hamilton, a particularly charming and good-looking young man. He was engaged for some length of time to a pretty daughter of a civic dignitary, but the stern papa forbid the banns, so to speak, so our Lieutenant went back to England - he was Irish', by-the-way— and married an equally attractive bride, and became Chief of the London Fire Brigade.
The Daily Perth, 12 July 1910
---
Referred to in the in the West Australian, 12 December 1895 as a young officer.
---
On 17 December 1895 The Argus reported that G Gaunt had been selected for appointment as Lieutenants in the Royal Navy.