Horace Claringbould
aka
Horace Claringbold
1st Class Petty Officer
A CRIMEAN VETERAN.

A.J.H.C.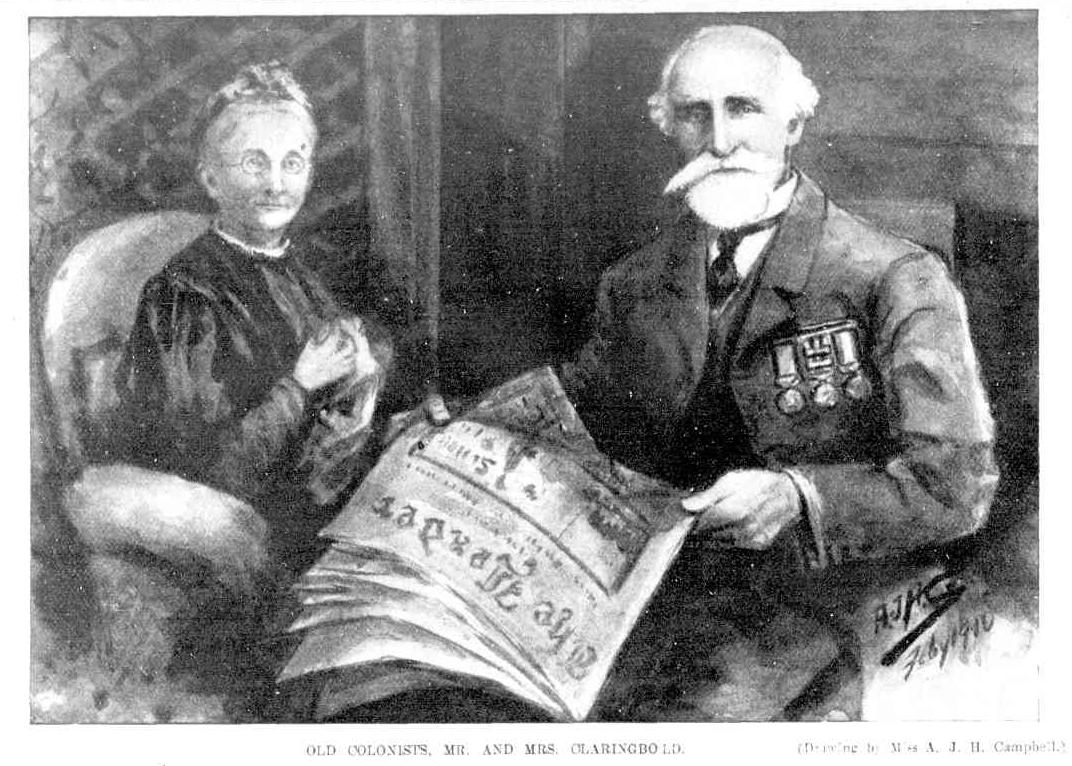 Old Colonists, Mr and Mrs Claringbold
(drawing by Mrs A. J. H. Campbell)


Horace Claringbold, the subject ot our sketch, came out to Australia in 1865, to join his brothers, who had already been settled in Victoria some years. He brought with him his wife and children, and settled in Williamstown, where they have lived ever since. "My wife and I celebrated our golden Wedding last week," said Mr. Claringbold. .We were both natives of Walnier, Kent, where we were married. We have seven sons, one daughter and several grandchildren. When I was thirteen I was apprenticed for seven years to the Imperial Navy training ship Monarch. When my time was served I joined the Cyclops, a 60-gun paddle box steamer that was going up and down the English Channel with boilers to convert the old battleships into steamers. From there I was transferred to H.M.S. Royal George, 120 guns. Captain Codrington was our commander. We were ordered out to the Crimea, and took part in the capture of Sebastopol in 1854-55. After peace was proclaimed we returned, bringing aboard of us the 64th Regiment. At Portsmouth we were paid off, and I had six weeks holiday, which I spent at home in Walmer, after joining Nelson's old ship the Victory, then being used as a training ship. I had only been on her a few months when I was sent to H.M.S. Sannon, 50 guns.
We took a trial trip in the Channel, then the Chinese war broke out, and we sailed for China, taking on board Lord Elgin and his aide-de-camp Sir Henry Loch, at one time Governor of Victoria. Whilst in China news reached us of the Indian Mutiny so we left Lord Elgin and suite at Hong Kong and sailed for Calcutta. When we arrived there the Governor-General — 1 forget his name — came aboard of us, and explaining all about the mutiny, asked Captain Peel, our captain, if his men would volunteer. We all did to a man - 500 of us - and we had little notion of what we were letting ourselves in for.
We at once began preparations for the trip, taking four large flat bottomed barges, and a steamer to tow us up the Ganges. We also took our 68 pounders— the heaviest guns used in the navy at that time; they were mounted on field piece carriages, and were drawn by 16 bullocks and 2 elephants. On the way up we stopped at Futtipore, where the enemy was, and drove them out of the village, leaving 50 or 60 dead; from there we went on to Allahabad, where we landed, and went into the fort to wait for reinforcements. The fort was at a point where the Ganges and Hoogli meet. Here we had two sorties, and the Sepoys tried to take the fort from us. Sir Colin Campball, who had marched up from Calcutta, arrived soon after, and we joined him, marching from 10 to 12 miles a day, skirmishing all the way. The first night a spy brought us word that a body of the enemy's cavalry 7000 strong was 10 miles away, so we left our guns and went off on camels and elephants. They opened fire, which caused us to dismount quickly. We had nearly five hours' hard fighting in the sugar cane before we could turn them. Sir Colin Campbell and Captain Peel consulted, with the result that the 93rd Highlanders were ordered to open their colors and charge. We soon dispersed them, and captured four brass guns; but it was a weary march 'back to camp, as we had to drag' the guns with drag ropes. Next morning we started on our march to Lucknow, skirmishing all the way. Before entering Cawnpore we halted for two days on account of the horses— they can't stand as much as a man. The enemy, hearing of our approach, massacred all the Europeans there. We got our batteries ready and engaged them. Next morning they came out into the plain in line and faced us. We formed into line, and a battery of six gun flying artillery came out from our line, fired two rounds, and, slipping their guns, charged (with the 9 th Lancers and 7th Hussars), breaking the enemy's line. We captured twenty brass field pieces and fifty lakhs of rupees. We halted in the town (Cawnpore) that night, and the sappers built a bridge of boats across the River Hoogli, and we continued our march to Lucknow, which we reached in two days. When outside the town a spy came out, and told us that the enemy had mines laid under the road by which they expected us to enter, so we altered our plans, and approached the town from the opposite direction. There was a large English college there, which we captured in our first engagement. Next day we fought our way into the town,, took another large college in which there were 600 sepoys, and burnt it. We were in Lucknow nine days on two days provisions. After raising the siege we marched with the besieged back to Cawnpore, and then returned to capture Lucknow, after having been reinforced to the number of 30,000. We were three days capturing the town, after which we left in battalions. We came across the great and wealthy Nana Sahib, ahd tried to hit him, but he was so covered with jewels that there was not a chance, and the sun shining on his diamonds added to the difficulty. I forgot to tell you that some of us got very valuable loot. When I was in the palace I was near one of the 93rd Highlanders who picked up a casket of precious stones. The only thing I got was this crystal ball, and I don't know as there's much value attached to it except as a relic. We had a trying march back to Calcutta, as we had to fight all the way, but we got a great reception when we arrived there.

We had left H.M.S. Shannon 500 strong, and only 200 of us returned. When we reached England we were paid off, and though I got wounded in a skirmish, I did not receive a pension, as it was not reported by.the doctor. After leaving the Shannon I joined tha Mersey, 40 guns, and stayed on her for about six months, when I was paid off and got my discharge.

In 1859 I joined, the London Fire Brigade, and remained in it two years; the last fire I was at was in Tooley Street, near London-bridge, where there were large warehouses, containing all kinds of combustibles, principally oil. The fire burned for three weeks. Tne Thames was literally on fire, the burning oil 'running down the stream and setting fire to the shipping. Superintendent Braidwood was killed by a falling wall. He had just warned us about it, and was turning away when it fell on him. Strange to say when his body was recovered it was not burnt or disfigured in any way. Here is a presentation picture of the great fire which was given to members of Itihe brigade who took pant in extinguishing it.

1 came out to Australia in 1865, and went ballasting with my brothers. We used to go up the Yarra to Stony Creek for ballast,- for which we paid from 1/- to 1/3 a ton, and sold it - to the outgoing ships for as much as 5/. But the wheat export did away with the ballast trade, and in 1871, when the Cerberus came out, I joined her, and remained in the service for 26 years, and then retired on a pension.

You would like to see my medals? Well here they are. The first is the Crimean Sebastopol. My name is engraved round the edge. The second is rarer. It is the two-bar medal for the siege and the capture of Lucknow. The third is for Victorian long service. When I reached the age limit I was never more fit for my work; even now I am perfectly healthy, nnd never idle. This house in which we have lived for 32 years belongs to me, and I like to keep it in ship shape. I am, a great gardener and lover of flowers. Like most old salts I have a longing for country life. I want to get away from the sight and sound of the sea.
The Leader, 19 March 1910
---
A CRIMEAN VETERAN
PARTICIPANT IN INDIAN MUTINY.
There died on Tuesday, at 16 Dalgarno street, North Williamstown, a very old resident, in the person of Mr. Horace Claringbould, late of the Royal Navy and Victorian Navy. He was 79 Years of age, an Englishman by birth, and arrived here in 1866 with his wife and three children, Messrs. Horace, William and Herbert Claringbould. Born in 1840, he went to sea in Her Majesty's naval service at an early age, and fought in the Crimea from 1854 to 1856, being a member of the crew of H.M.S. Shannon. He saw further stirring service in the Indian mutiny in 1857 and 1858, and was one of the party of bluejackets, under Capt. Sir W. Peel, RN, who assisted at the relief of Lucknow, when the gallant seamen served the British guns on shore against the Sikhs. For this Mr. Claringbould received the Lucknow medal with two bars, as well as the Crimean medal. He was likewise the possessor of the long naval service Victorian medal, and served 23 years on board H.M.A.S. Cerberus. He came to Australia in the sailing vessel, "Champion of the Seas". Another episode in his career was being present at the great fire in London on the Thames, at London Bridge, on June 23rd, 1861. The remains were interred in the Williamstown Necropolis on Thursday afternoon. There was a large funeral, the Revs. E. Dybing (Baptist), C. Brewer (Congregational), D. Daley (Electra st. Methodist), and C. Thorne (Newport Baptist) officiating at the graveside.

The late Mr. Claringbould leaves a widow and eight children (Messrs. Horace, Williarn Herbert, Henry, Ernest, Percy, and Fred. Claringbould, and Ethel). This represents the first break in the family tie.

The pall bearers were Messers T.R. Hazle, T. Seabridge, T. Jones, R. Paul, C. Anderson, J. Lawson, C. Woolrich and G. Bond. Mr Jackson (T. Lonsdale) conducted the funeral.
# 16 April 1918
The Argus, 20 April 1918
---
---
Horace Claringbould, served in the Royal Navy from 1852 to 1857 on HMS Monarch, Shannon & Royal George, born 30.8.1839, christened 22.9.1839 at Walmer, Kent.
Died 1918, age 78, at Newport, (6168),
Immigrated to Australia as Claringbold, on "Champion of the Seas" arriving Melbourne in November 1865 at age 26 with wife Elizabeth, age 24, and sons Sydney, age 4, William, age 1, and infant Herbert, born at sea.
Horace added the "u" in the spelling of the family name.
Married Elizabeth Graves in England, (born ca 1841 [or 1836], died 1923, age 87, at Newport, [16288], daughter of William & Elizabeth [Fowell]).
* Horace Sidney born 1 Feb 1861
---
HORACE CLARINGBOULD died age 78 in 1918 Williamstown, Vic Reg no 6168
Parents listed as Michael Claringbo

u

ld and Sarah Peerless
Deaths – Claringbould – On the 16th April at his residence 16 Dalgarno Street, North Williamstown, Horace late of the Royal Navy and Royal Victorian Navy, beloved husband of Elizabeth Claringbould, loved father of Horace, William, Herbert, Henry Ernest, Percy, Fred and Ethel aged 78 years. A Veteran of the Crimea and Indian Mutiny,
Funeral- Claringbould-The friends of the late Mr Horace Claringbould, late of the Royal Victorian Navy are respectfully informed that his remains will be interred at the Williamstown Cemetery.
The funeral is appointed to move from his residence 16 Dalgarno Street, North Williamstown this day (Thursday the 18th April at 3 o'clock) Thos Lonsdale Undertaker Ferguson Street, Williamstown,
The Argus, 18 April 1918 Source
---
More details on this person can be found in the Victorian Navy Certificates of Service This is a very large pdf file of 109 mb and takes 13 minutes to download with a 1.5 mbps internet connection.