Oliver Ambert Alan Burford
Chief Warrant Officer
from Commodores: No. 1 by Trevor Sutcliffe.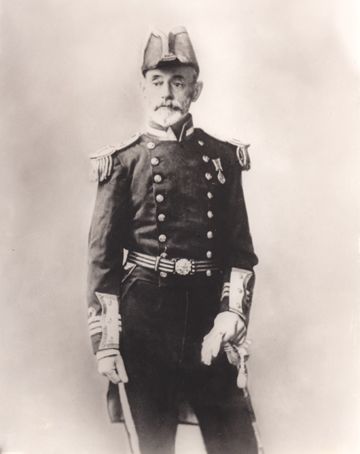 photo courtesy of Derek Burford
---
The concussion when a 10in gun is fired is terrific. Yesterday the beading on the breastworks beneath the muzzles was torn away for yards, a couple of windows were broken in parts of the ship, and a pane of glass in the deck-house of the picket-boat alongside was shivered into atoms when the first shot of the day was fired.

Lieutenant Burford, who has eyes for everything on the ship, peeped round one of the turrets to see how the other turret was getting on when a gun was fired. The effect on the drum of one of his ears was painful and he had to retire below, where a doctor was handy with soothing oil. The drums of men's ears have been known to burst under similar circumstances.
The First Easter Manoeuvres with a Steamless Flagship, The Argus, 2 April 1907.
---
Oliver Burford was born on 7 January 1860 in the sub-district of St. Peters, Hammersmith, in the county of Middlesex, UK. His parents were the Rev. Dr. Arthur Howard Burford and Sarah (nee Spears). At the age of 13½ years he went to sea as an apprentice in the merchant sailing service of Messrs. Taylor, Beth and Roberts, which traded to Queensland, Victoria, India, Quebec, Alabama and South American ports. In 1882, after serving 8½ years, he left the merchant service and joined the Royal Navy. He came to Australia in October of that year and joined the Victorian naval force in a minor capacity. (Prior to Federation in 1901, the colonies had their own navies). At that stage he was aged 22. Five years later, in 1887, he married Ellen McMillan, at Williamstown, Victoria. In 1888 he was appointed a Warrant Officer, and over the next nine years they had five children.

The Boxer Uprising broke out in far away in China in 1899. The Boxers resented the influx of westerners, and in particular Christian missionaries and their local converts and many were being killed. The British and other European governments responded by sending in troops to protect their citizens and property, and the Australian colonies lent support. There were 197 in the Victorian Navy's contingent; 263 from the New South Wales Navy; and South Australia sent their H.M.C.S. Protector and 103 men. Burford was a gunner in the Victorian contingent, and was promoted to Sub-Lieutenant for the purpose of that expedition. They arrived after most of the combat was over, nevertheless he qualified for and was awarded the China War medal.

The conflict ended in 1901, and Burford subsequently returned home and was promoted to Chief Warrant Officer in May of that year. He was commissioned Lieutenant in 1905, and appointed District Naval Officer, South Australia, stationed at Port Adelaide in 1911. He was Acting Commander in 1912, then aged 52.

At the time of the outbreak of World War I Burford was 54, too old for active service, and spent the war years as Naval Transport Officer in the Auxiliary Force at various ports.

He was promoted to Captain in April 1918, and transferred to Western Australia as the District Naval Officer, stationed at Freemantle.

When the Port Yacht Club was formed on 3 November 1920, its inaugural meeting and subsequent meetings were held in the Naval Drill Hall, Fremantle, and Captain Burford accepted the position of Commodore. There is no record of Captain Burford being an active sailor, so the role of Commodore at that time seems to have been more akin to that of today's "Patron". The use of the Navy Drill Hall as a meeting place seems to confirm that assumption. Burford's second in command, a Lieutenant Alexander Loudoun-Shand, was the Club's Vice Commodore. The Club changed its name to Fremantle Sailing Club before its first anniversary.

Captain Burford retired from the navy at the end of 1922, and returned to Victoria. His children would have been in their late 20s to early 30s by then, probably married with their own families and did not come to WA. This seems to be born out by the fact that all of his descendants live in either Victoria and South Australia ¾ states where he spent most of his life.

His retirement at the relatively early age of almost 63 may have been due to ill health, for he passed away only ten months later His Will dated 7 September 1923 was written at "Reidslea", West Warburton, and witnesses by a Nurse and Bank Manager, which suggests that he may have been receiving care. He died just five weeks later on 18 October 1923 and was survived by his wife Ellen, sons Sydney and Oliver, and daughters Mabel, Veronica, and Ellen (Nellie). His real estate was shared equally between his widow and youngest daughter (Nellie), suggesting that Nellie may have lived with the mother, and perhaps spent time nursing him. The residue of his estate was shared equally between the widow and all of his children.

The Argus, 20 October 1923, carried his obituary, and ended with the following:

The officers and men who have served under Captain Burford, or have been associated with him in connection with the administration of the naval forces, will assemble at the Melbourne Cemetery gates this afternoon to attend his funeral.

Commander Bracegirdle, D.S.O., will represent the naval board, and the district naval officer, Lieutenant-commander A. J. Loudoun-Shand, will be present.

It is interesting to note that Commander Bracegirdle was a veteran of the China War, and Lieutenant-commander Loudoun-Shand, was Burford's 2IC at Remantle.

Captain Burford's connection with the Club was only a short one, but there are links with WA and the FSC albeit only a fleeting one that continues to the present generation. At the age of 18, his grand-son, Keith Oliver Burford, joined the Navy and served a total of 13 years. Four of those were aboard the successful, but also ill-fated, HMAS Sydney, during which time he saw action in the Mediterranean where Sydney sank the Italian cruiser Bartolomeo Colononi, and was part of the rescue mission for the evacuation of Crete. He left her at Melbourne, just prior to Sydney's last fateful voyage and loss off Carnarvon.

His great-grandson, Derek, (Keith's son) also followed in the footsteps of his forebears by joining the RAN, and was a member if the commissioning crew of HMAS Success when it visited Remantle. Derek had no idea that he was almost walking in his great-grandfather's footsteps when he visited Remantle, or of the connection between the names Burford and Success with Remantle Sailing Club.

It was Derek who responded to a letter drop from the Club seeking to contact Captain Burford's descendants in Victoria, and he provided the photograph of Oliver in his Captain's uniform illustrated here. This has in turn led Derek to rekindle interested in his family history, and he has contributed towards the contents of this biography of his great-grandfather for which we thank him.

Tracing descendants has many unexpected twists and turns, and it is quite remarkable that we located Derek at all, for his family line goes back to Oliver's daughter, Mabel, who married a Murray River paddle-steamer seaman named Baker. Her son, Keith, changed his name to his mother's maiden name, Burford, when he joined the RAN. But for that, Derek would have been Derek Baker and we would never have found him. It could be that young Baker wanted to resurrect the name Burford in the navy, but on the other hand, that side of the Burford family seems to be steeped in mystery, and one can only conjecture on the reason for the name change. But sometimes skeletons are best left in the closet.

But it does not end there. Captain Burford's South Australian clan also has a tenuous link with the FSC. Another great-grandson, Tony Hooper, provided the original photograph of Captain Burford shown here in his Commander's uniform. A large copy hung in the Adelaide family home for many years, but sadly went missing when the house was sold. Tony is a keen sailor and a member of the Royal Adelaide Yacht Club, where he sails a 40-foot yacht. And the connection with FSC? Oh…his son, James, Oliver's great-great-grandson, lives in Fremantle...

Information used to compile this biography was obtained from The Argus, 20 October 1923, The Australian Illustrated Encyclopaedia of the Boxer Uprising 1899-1901, and Mr Derek Burford.
---
The Bellerophon Blocks
"These sheave-blocks are over a hundred years old. They were brought from the old Nelson but originally they formed portion of the gear of the Bellerophon. The authorities are having them retained as curios." -Lieutenant Burford, describing the old naval stores at Williamstown.
Where have they been?
What have they seen
In the service of England
For King or for Queen?
Here, where they lie,
The years rolling by
Make 'em grow rusty
And musty and dry.
Battle and breeze
Buffeted these
When the old 'Bully-rough'un'
Sailed over the seas.
Of tempest and swell,
Round shot and shell,
Of pike and of cutlass,
What stories they tell.
Cold seas of the north
Have witnessed their worth,
When Horatio Nelson
Went gallantly forth;
They remember the sound
When the capstan went round,
And its creaking and shrieking
In chanties were drowned.
They long lay asleep
On a sunnier deep,
Until the old Nelson
Was thrown on the heap;
We have made them a place
Of honour to grace,
For the story of glory
That through them we trace.
The Argus, 20 June 1908
_______________________________________________________
Note: HMS Bellerophon (1786) was known as Billy Ruffian or its variants such as Bully-rough'un by her crew.
---
Oliver Burford had a long association with rifle shooting in Victoria and South Australia in particular. Andrew Kilsby
---
| | | | | | | | |
| --- | --- | --- | --- | --- | --- | --- | --- |
| Religion | Height | Chest | Build | Hair | Eyes | Tatoo | Comment |
| Prot | 5' 10½" | 38 | Prop | D. Brown | Hazel | | |
From Volunteer Listing kept by CPO Goding & held by grandson Lawrence Dilks, Williamstown. Prepared by Ada Ackerly, Directory Williamstown Museum, c 1987.
Profile in The Australian Illustrated Enclclopaedia of The Boxer Uprising 1899-1901, Justin Corfield, Slouch Hat Publications, McCrae Australia, 2001.