George Burnham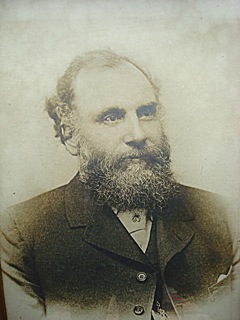 Photo of George Burnham courtesy of Neil Burnham.
Sereved in the Volunteer Naval Brigade, 1868 - 1871. Source Victorian Naval Brigade 1860 - 1871 courtesy of Tom Corfmat, Victorian Colonial Infantry Association Inc.
---
Born 12 May 1843, London England.
One of four children born to George Burnham and Caroline Hunt.
He arrived in Melbourne, Victoria on 20 Sept 1863 on the ship Queen Bee.
Worked as a Machine Ruler, Drayman, Labourer, Carpenter, Lamplighter and Night Watchman.
George served in the navy with the Volunteer Naval Brigade at Sandridge (Port Melbourne) from 1868 to 1871.
First formed in 1859, this force contained a high proportion of ex-Royal Navy men. Service was part time and unpaid.
Trained in infantry and artillery drill, both ashore and aboard ship, the brigade supplemented the small permanent navy.
It was divided into Williamstown and Sandridge (Port Melbourne) divisions.
The Emerald Hill Record on the 16th of November 1871 published a list of claims from members of the Sandridge Volunteer Naval Brigade with George Burnham claiming £10-16s- 8d.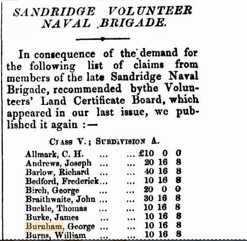 George was employed as a Carpenter in 1868 when he married Matilda Wylie, a laundress on the 1st of January 1868 at St. Lukes Church, Emerald Hill.
Matilda, the daughter of James Wylie and Esther Hodge of Tyrone, Ireland, had arrived in Melbourne on assisted passage in June of 1863.
They lived in Emerald Hill (Sth. Melbourne) and had seven children together, including Charley, their third child on the 28th of June 1872.
George purchased land in Sorrento in the 1890's - this was to be the beginning of a long association with the Mornington Peninsula for the Burnham family.
George died in Melbourne on the 4th of May 1901 and was buried in the Melbourne Cemetery.
Matilda moved to Sorrento with her son Charley where she died on 23 Oct. 1917.
Details & photo supplied by Neil Burnham
---