Henry (Harry) Timberley
Able Seaman
A Victim of the 1881 Torpedo Explosion
Possibly the son of William ( William Inglis?) Timberley & Caroline bapt. Jun. 2nd. 1848 at Godlaming, Surrey, England.
"TIMBERLEY - On the 5th inst., Harry Timberley, quarter-master, second son of William Timberley, of Godalming, Surrey, England (killed by the accidental explosion of a torpedo from HMCSS Cerberus, which he was assisting to place in the bay, off Queenscliff), aged 32 years. Home papers please copy."
The Argus, 12 March 1881.
"Harry Timberley, aged 32, engaged as an able seaman on board the Cerberus, had been a petty officer in the Royal Navy. He was also at one time an instructor on a training ship at home." The Argus, 7 March 1881
"The other poor fellows, whose bodies are missing, were William Barnes, a petty officer of the Cerberus, and Harry Timberley and James Wilkie, able bodied seamen belonging to that vessel." The Brisbane Courier, 23 March 1881
---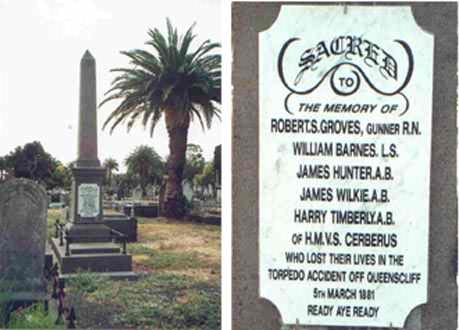 Memorial to those who died in the 1881 Torpedo Explosion off Queenscliff.
photo by David Joy 2001.