John Erskine Blair
Chief Gunner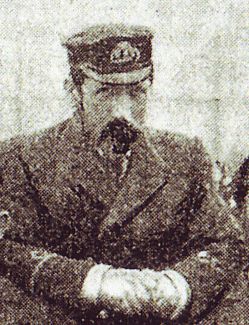 photographed in 1900
Gunner Blair served on HMVS Cerberus.
---
died: 29-8-1936
---
Listed in the Victorian Defence Forces List, Naval Branch, 1 January 1890.
---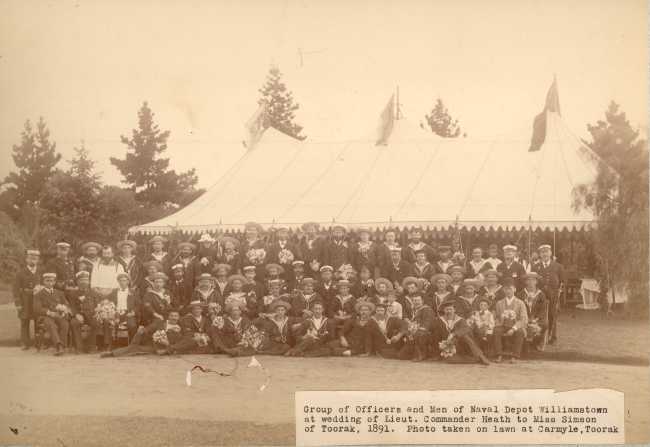 Men of the Victorian Naval Forces at the Wedding of Commander Heath and Elizabeth (Bessie) Catherine Simson on 21 January 1891.
Gunner John Blair standing on the far left with Gunner Cardigan Dann standing second from the left & Lieut. Heath seated third from left.
In the centre of the middle row, marked with an X is Chief Engine Room Artificer Charles Allard.
Photo courtesy of John Perryman, Senior Naval Historical Officer at the Sea Power Centre - Australia.
Click image for hi-res version
---
SHELLS FOR THE "MELTING-POT."
Yesterday morning lorries were engaged at the Williamstown Torpedo Depot transferring between 300 and 400 shells, obsolete ammunition of H.M. Cerberus, to a Melbourne foundry to be "melted down." The ancient Cerberus is now out of commission, and will probably shortly go to the "scrap heap." Chief Gunner Blair pointed out that there were several different types of shells in tlie consignment. A steel shell was one. Its total weight full charged would be 400 lb. Its propelling agent represented 46¾ lb. of gunpowder. Its special use was for bombardment purposes. Other types were the "Paliser" and shrapnel. The latter was mainly used against boats. Filled with leaden shot, and having a small bursting charge to allow of the emission of its contents, this shell would wreak havoc where crowds of men were gathered.
The Argus, 10 November 1909
---
Brother of Chief Petty Officer Samuel James Blair (Victorian Navy).