HMVS Cerberus News
Cry 'Havoc!' and let slip the dogs of war - Heritage Betrayed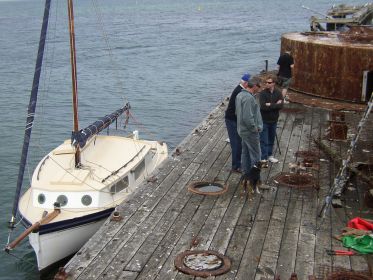 The 'barbarians' are at the gates. Heritage Victoria chooses Heritage Vandalism over preservation as just days ago approval is formalised to fill Cerberus with 4,000 tonnes of monolithic concrete. Happy WWI centenary. We might have expected our antagonists to invoke the 'bard of Avon' as they charge headlong toward 'destroying' the sole substantive remnant of Australia's Great War fleet, but this 'call to action' is all ours. Let us "Cry 'Havoc!' and let slip the dogs of war, that this foul deed shall smell above the earth ..." to counter this latest, most serious and immediate assault on our collective inheritance.

Did Heritage Victoria read our Submission?

They can't have, as their reasons for rejecting polyurethane are contradicted by the facts.

Heritage Victoria rejected polyurethane as "This option was not supported based on cost, environmental risk, and that polyurethane foam has not previously been tested on ship wrecks or similar contexts."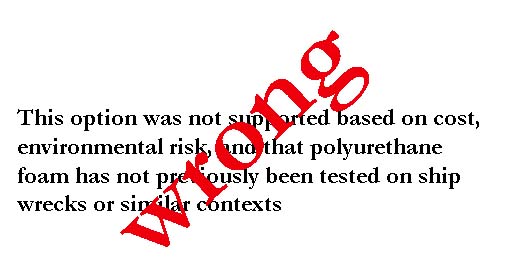 Our submission pointed out that:-

1) Polyurethane

is affordable

and we included an indicative quote to support this.

2) When injected into sea water, polyurethane cures within seconds. The Safety Data Sheet (included in our submission) for a two compound structural polyurethane foam states that "

Cured material is environmentally safe

".

3) Our submission included

a number of examples

where polyurethane has been used in similar contexts such as in sea going barges, sea walls and under water pipes.



Clearly Heritage Victoria has not kept an open mind, or even read our submission.




What can Supporters Do?

At this stage we suggest that supporters might like to write polite letters/emails to the editors of The Sun, The Age, The Australian and The Bayside Leader newspapers (links following) pointing out the stupidity of concrete fill as opposed to the use of polyurethane. We cannot emphasise enough, that until over 200 concrete trucks are driving towards Half Moon Bay, the battle is not lost.

We believe that for letters to be considered for publication, they must have a name, street address and phone number so their authenticity can be checked. An email address alone is not sufficient.

Letters to The Age Newspaper

Letters to The Sun Newspaper

Letters to The Australian Newspaper

Letters to The Bayside Leader Newspaper

Letters to The Age, Australian and Bayside Leader Newspapers
This link will open an email pre-addressed to all three of the "Age", "Australian" & "Bayside Leader" newspapers simultaneously. As with the other links, before sending simply add an appropriate message & your particulars where indicated.


Friends of the Cerberus' Submission - Rejected by Heritage Victoria


Other Promotions & Updates:

Newsletter #201 (dated 18 July 2018)

Facebook - (video promotion posted 20 July 2018).

The Age news items published on their website (31 July '18) and Facebook page (1 August '18).





Image Credit:
Friends of the Cerberus Inc. committee members confer on the breastwork deck during a periodic inspection of the former HMVS/HMAS Cerberus. At right you can see a ladder leaning against the conning tower at the top of which (out of frame) our intrepid President was struggling to replace a Victorian flag that is maintained on board by 'Friends'. This photo was taken 14 Oct 2010 from atop the aft turret looking forward along the port side of the breastwork deck by John Toogood.






Be advised when
news items are added.