HMVS Cerberus News
Cerberus Breakfast Server acquired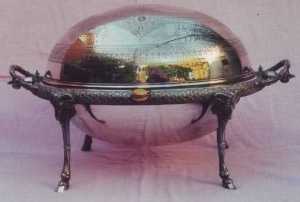 The magnificent Breakfast Server shown at left was recently donated to Friends of the Cerberus by Judy Durham, Di Barnott, John Thompson and Derek Thompson who are the grand children of Paymaster John Arthur Thompson.

Research by Shirley Joy indicates that the tureen was presented to Paymaster Thompson of the Victorian Navy for his assistance to those involved in the fatal torpedo explosion off Queenscliff on 5 March 1881. The Server, along with an original copy of the report into the torpedo expolosion donated by Shirley, will be the focal point of a display in the Geelong Maritime Museum about the torpedo explosion. Read about Shirley's discoveries and view the engravings in the Breakfast Server SlideShow.





Be advised when
news items are added.