HMVS Cerberus News
Bracing Proposals Sought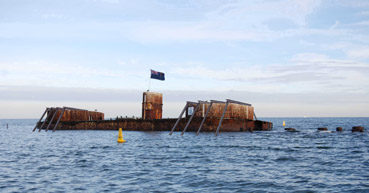 In 2008, Friends of the Cerberus received a $500,000 grant from the Federal Government. With funding currently not available to undertake the whole stabilisation project, approval in principal was given earlier this year by the Federal Department of Heritage, Environment, Water & the Arts, to use the grant to brace the gun turrets. Bracing the turrets is urgently required as to quote the Geotechnical Study carried out by G.H.D. "catastrophic collapse is imminent".

Last Year Friends of the Cerberus commissioned GHD to quote on a bracing structure (left image). We again commissioned GHD this year to quote on a second design suggested by the National Trust (right image). Unfortunately neither design was seen as ideal by Heritage Victoria. As each design cost us approximately $2,000 we indicated that we were not in a position to fund any further designs. It was therefore suggested by Heritage Victoria to invite tenders to design and build a more elegant bracing structure.





Be advised when
news items are added.