HMVS Cerberus News
$500,000 Grant for Cerberus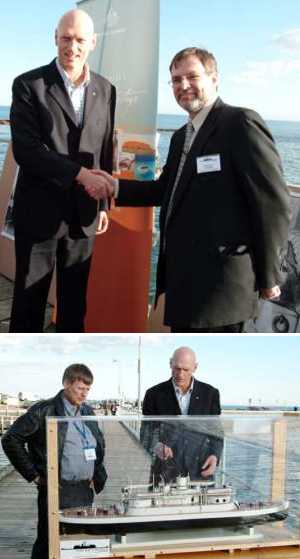 On Friday afternoon (25 July) Peter Garrett, (Minister of Environment, Heritage & the Arts) on behalf of the Australian Government, announced that $500,000 had been allocated to assist with stabilising Cerberus. The funds are being held in a tax deductible account by the National Trust of Victoria.

This funding allocation marks the first time that any Australian government has provided funding towards saving Cerberus. Announcing the grant at Half Moon Bay on Friday July 25, Minister Garrett thanked Friends of the Cerberus for raising the awareness of the plight of Cerberus. Minister Garret also acknowledged the important contribution of Heritage Victoria and the National Trust of Victoria for their role in working towards saving Cerberus.

Minister Garrett showed a genuine interest in, and knowledge of, the history of Cerberus. As part of his remarks about the important role that Cerberus played in the Victorian and Australian Navies, Peter Garrett quoted from the 1926 Herald newspaper when he said-
"Aptly named, the old ship prowled around the bay for half a century, a watch dog with fearful barks from her 18 ton muzzle loaders, a veritable 'Old Ironside.' She was the cradle of the fleet - the nursery where two generations of sailors learned their art and craft."
Unfortunately, contrary to the article in The Age Newspaper, Peter Garrett did not say that the grant would allow Cerberus to be raised and placed on a platform. However if the State government also makes a substantial financial contribution, it will be possible to install a supporting structure so as to prevent the catastrophic collapse that, the 2003 Geotechnical Report stated, is imminent.

To sum up we are now much closer to achieving the first stage of saving the Cerberus. We are eager to see how Minister Madden responds to our request for funding now that the Australian government has made a contribution.
Photos (by Jeff Bird) - (top) Minister Garrett being thanked by Chief Gunner Peter Tully (Secretary)
Fleet Engineer John Rogers (President) discusses Cerberus with Minister Garrett.

See the Plan to Stabilise & Raise Cerberus.

Funding Milestones.
Be advised when
news items are added.