HMVS Cerberus News
Federal & State Governments to discuss Cerberus.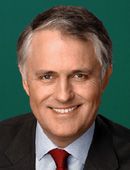 Members would be aware that Andrew Robb (Federal Member for Goldstein) has been attempting to pursuade Brendan Nelson (Minister for Defence) to assist in stabilising Cerberus. Members would also be aware that Malcolm Turnbull declined the Victorian Government's request to discuss the joint funding proposal to stabilise Cerberus.

It would appear that Andrew has been even more persuasive than we had hoped. Malcolm Turnbull has apparently reconsidered the case for preserving Cerberus and has written to Justin Madden suggesting that a working group be formed to discuss joint funding of stabilisation. The group is to comprise officers of the Commonwealth Departments of Environment & Water Resources (Malcolm Turnbull's Department) & Defence (Brendan Nelson's Department) and the Victorian State Department of Planning (Justin Madden's Department).

This obviously represents another significant step towards achieving our goal. I tend to think that our letter writing members & the Bayside Leader deserve to be congratulated as well as Andrew Robb.


Thank-you Andrew, Members & the Bayside Leader
Be advised when
news items are added.