HMVS Cerberus News
Painting donated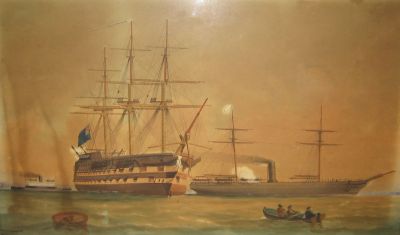 Juanita Scott has generously donated a watercolour painting of Cerberus, Nelson & Victoria to Friends of the Cerberus. Painted in 1872 by George Frederick Gregory, this painting complements the painting by his son, Arthur Victor Gregory, of the Victorian Fleet in 1888, a copy of which was recently purchased with donations from members. Many thanks to Ian MacFarlane for assisting with the acquisition of this important work.

Painted one year after her arrival in Australia, it would appear that the painter was more impressed with majestic sailing ships than with a modern battleship that looked more like a gasometer than a real ship. It would be a mistake though to equate appearance with power. To quote John Bastock in Australian Ships of War, Cerberus "would have proved more than a match for the combined British Squadron then on the Australian Station". Ships such as Cerberus had made wooden Men-of-War obsolete. They sure looked good though.
Be advised when
news items are added.