HMVS Cerberus News
Victorian Navy Caps 4 Sale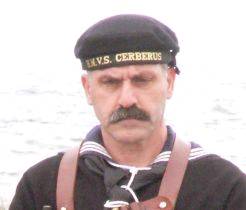 Courtesy of the HRSA, we are now able to offer a DIY HMVS Cerberus Cap kit. The caps are "Greek Captain's Caps" purchased from the Waterloo Store at Sovereign Hill, Ballarat. We remove the peak & sell the resulting cap, HMVS Cerberus cap tally & instructions for tying the tally for $30 plus postage.. Where the peak has been removed the lining will need to be either sewn, glued or taped with double sided tape. The instructions for tying the tally around the cap are complicated and some webmasters have been known to give up & simply tie a knot & bow.

NOTE: The cap is similar to, but not the same as, the Victorian Navy winter uniform cap. The cap does require assembly.
Online Store

Photos of Joe d'Amico of the Historical Re-enactment Society of Australia (HRSA) in Victorian Navy uniform courtesy of George Scott.






Be advised when
news items are added.