HMVS Cerberus News
Victorians Rally for HMVS Cerberus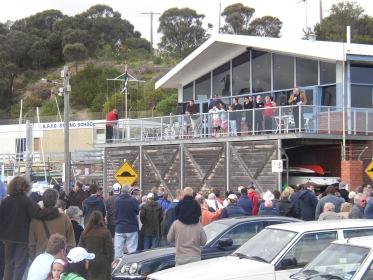 My congratulations and sincere thanks to all the volunteers, organizers and supporters who extended themselves beyond all expectations to ensure that last Sunday's (3 Sep) celebration of HMVS Cerberus was our most successful 'call-to-arms' yet. As others have already done, I feel the need to make particular mention of some groups and individuals whose contributions, in addition to those of our hard-working board members, continue to inspire rapidly growing support for our cause. On this occasion -

Mr John Wood (our Patron - seen above during his address)
Historical Re-enactment Society of Australia (Victorian Naval Forces with flag-raising, musket & cannon salutes etc)
Sandringham Yacht Club (Boat for Cruises around Cerberus)
Sub-Lieutenant Bruce Humphries (Boat Skipper)
Black Rock Yacht Club (Displays, Mains Power, Amenities etc)
Bayside Council (Health & Safety Unit - Fast-tracking of Food Licence & Permit)
East Box Hill Cricket Club (Support with Sausage Sizzle)
Margaret Simpson & Family (Pressed into Galley service by Patrick)
Martin O'Connor (Sound System)
Heritage Victoria (Access Permit)
Parks Victoria (Event Permit)
Victorian Police (Firearms Permit)
Herald-Sun (Print Media)

In addition to our Patron John Wood, other notable attendees during the afternoon included Cr Derek Wilson (Mayor of Bayside), Noel Pullen MLC (State Member for Higinbotham), Janice Munt MP (State Member for Mordialloc), Senator Lynne Allison (Leader - Australian Democrats) and Lindsay Rex (President - Maritime Heritage Association of Victoria). Thanks for attending our showcase promotion of the year and the visible expression of support that your actions convey.

On behalf of 'Friends' I wish to thank all who attended, our board members who literally 'slaved' for this event (particularly John Rogers' over-all coordination and Graeme Disney's organization of cruise-boats so expertly handled in heavy seas) and our volunteers who made last Sunday the great success it undoubtedly was. Some estimates have attendance figures for the afternoon in excess of 800 with almost half that number assembled to hear our Patron's address alone. The Cerberus has almost certainly not experienced such a public outpouring of community affection since her days as a commissioned warship when such was the norm' and she still made periodic appearances around Port Phillip Bay to receive them.

Considering that last Sunday was an outdoor event with ever present high winds and a real threat of foul weather this result is more than any of us could have hoped for and augurs very well for the future.

"We will secure the ship"

Regards,
John Toogood (President)
Friends of the Cerberus Inc.

Be advised when
news items are added.