HMVS Cerberus News
Archival film footage added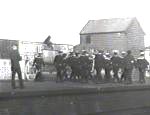 Honour Guard Departing Video.
The video was shot on the departure of the Duke of York (future King George V) from Port Melbourne railway station on 18 May 1901. It is fascinating to realise that the section of the Naval Honour Guard seen departing served on board the newly titled HMAS Cerberus. They were almost certainly returning to the ship.

The section of the Honour Guard seen departing is led by an officer with another bringing up the rear. Second last appears to be a bugler.
The video is from Living Melbourne 1896-1910 produced by the National Film & Sound Archive.

view the clip
Be advised when
news items are added.