HMVS Cerberus News
Christmas Cheer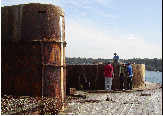 With only a week until Christmas I convey to everyone the very best wishes of our board and sincere thanks for sustained, widespread support given the campaign to "Save the Cerberus". After the announcement last week by our Commonwealth Government that HMVS Cerberus has been included on the Australian National Heritage List all 'Friends of the Cerberus' can feel justifiably proud. You may just have ensured a most enduring Christmas present for all Australians and maritime enthusiasts the world over.




John Toogood - President
Friends of the Cerberus






Be advised when
news items are added.