HMVS Cerberus News
Display at Half Moon Bay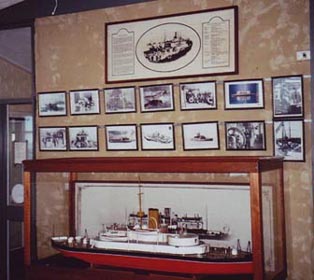 The display inside the Black Rock Yacht Club includes the model built and loaned to us by Robert Schorah in a case built by Michael Simpson. The display also includes two of the wall hangings donated by the Australian Leisure & Hospitality Group.

The Black Rock Yacht Club have generously made the space available in the building and are quite happy to have members of the public view the display. The building is open from midday until 5.00 pm every day except Tuesday. Entry is via the double wire gates and up the stairs. Having viewed the display the real thing can be seen by simply turning around.
Be advised when
news items are added.